John McCann, MD, PhD
---
---
Dr. John McCann, MD, PhD has focused his practice on eyelid and facial plastic surgery for more than 20 years. He is a nationally recognized expert in cosmetic surgery of the eyelids, mid-face, lower face and forehead. Dr. McCann is the Medical Director of Discover Facial Appearances, a new division of Discover Vision Centers, opening in March of 2019 at the Leawood facility at 11500 Granada Lane.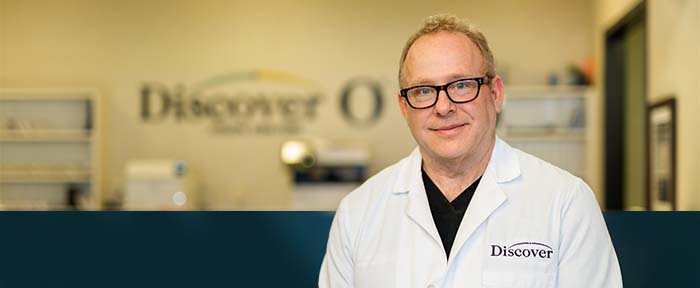 Dr. John McCann is an experienced ophthalmic and cosmetic surgeon. He has performed more than 25,000 procedures over the last two decades, receiving numerous accolades including being voted among "Best Doctors in America."
Dr. McCann has been voted among the top 1% in his field. He has served in leadership roles at the largest hospital in Utah as a Department Chairman. Dr. McCann was selected as one of the few doctors in the country certified by the American Society of Ophthalmic Plastic Surgery to train other doctors.
Dr. McCann's Background:
Dr. McCann is a board certified ophthalmologist. He is a graduate of the University of Iowa where he completed medical school and earned a PhD in biophysics and physiology. Dr. McCann completed surgical training at the University of California, San Francisco. He then completed advanced training in eyelid and facial plastic surgery at the University of Utah. Dr. McCann took a full-time faculty position at the Jules Stein Eye Institute at UCLA where he became head of ophthalmology at an affiliated hospital. After he achieved tenure at the University, Dr. McCann built a thriving practice in Sandy, Utah.
Outside of the office, Dr. McCann's focus is on family and his wife, Rachel. The two are inseparable and enjoy traveling the world and spending time together outdoors. He comes from a large family who have spent many reunions at the Lake of the Ozarks. Dr. McCann is looking forward to being back in the Midwest and leading his team at Discover Facial Appearances.
Dr. John McCann practices at the following office:
Call 816.478.1230 or request an appointment online.
More information on Dr. John McCann:
Education & Training:
Postdoctoral Training – University of Utah Ophthalmic Plastic Surgery Division
Residency Training – University of California San Francisco Department of Ophthalmology

OKAP Score Range (92%-99%)

Tucson Hospitals Medical Education Program, Tucson, AZ
Combined M.D./Ph.D. in Physiology and Biophysics (1991) – University of Iowa, Iowa City, IA

Clinical Rotation Honors Including Internal Medicine, Ob/Gyn, and General Surgery.
GPA 4.0

B.A. in Chemistry – University of Northern Iowa, Cedar Falls, IA

Purple and Gold Award (1984)
Graduated top of class (1984)
GPA 4.0
Memberships:
Board Certified, American Board of Ophthalmology
Fellow, American Society of Ophthalmic Plastic and Reconstructive Surgery (ASOPRS)
Fellow, American Academy of Ophthalmology (AAO)
The Society of Heed Fellows, Member
American Medical Association (AMA), Member
Frederick C. Cordes Eye Society, Member
Pacific Coast Otolaryngology Ophthalmology Society, Member
Bay Surgical Society
Member, PAAO
Utah Ophthalmology Society (UOS)
Optical
Order Contacts
MyDVC Patient Portal
Discover Vision Blog