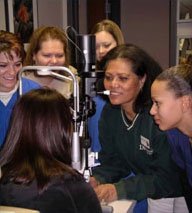 Discover Vision Career Opportunities
Competitive salaries and excellent benefits are merely two incentives to start a Discover Vision career. Though experience is preferred, or required for some positions, our on-site training program is unsurpassed within the region. To learn about the most recent opportunities or to apply for a position, send an email to careers@discovervision.com or fax resumés/cover letters to 816.350.4585. Click here to download an application.  Current Discover Vision career opportunities include:
Ophthalmic Technician – various locations
Network Integration Specialist – IT Department, Independence
Perioperative Registered Nurse – Leawood Surgery Center
---
Ophthalmic Technician – Full-Time, Multiple Locations
Requirements:
Demonstrate advanced comprehension of the ophthalmic assistant skills as outlined by the Joint Commission on Allied Health Personnel in Ophthalmology (JCAHPO) as well as a basic understanding of optics and the ability to perform refractometry.
Comprehension of the principles of optics, refraction, and contact lenses.
Ability to perform comprehensive work-ups on 2-3 patients per hour.
Demonstrated computer literacy.
Responsibilities:
Some duties include gathering medical histories, patient work-up that includes pre-testing, visual acuities, applanation tonometry, pupil assessment, manual refractions, contact lens, OCT and Topography, Keratometry and scribing.
Visual fields and EMR experience preferred but willing to train the right person. Prefer COA or COT certification but will consider experience with potential certification.
Hours: Weekdays 8:00a – 5:00p with 1 weekly late night from 10:00am – 7:00pm (Monday or Thursday) as well as a Saturdays rotation (8:00am – 12:00pm), which are typically once per month.
---
Network Integration Specialist, IT Department – Independence, MO
Job Summary: Performs general network maintenance, monitors network devices to ensure reliable connectivity to the network, assists with troubleshooting and user requests.
Education and Experience:
High school diploma; some college preferred.
4 – 7 years experience in Information Technology
Essential Skills and Abilities:
Works directly with end users to provide services and help to resolve technology related problems in a timely manner, in order to eliminate downtime and ensure customer satisfaction.
Handles multiple project responsibilities simultaneously with the ability to prioritize work and resolve technical emergencies as they may occur.
Installs hardware and peripheral components such as computers, monitors, keyboards, printers, scanners, etc at user's work location.
Loads appropriate software packages such as operating systems, networking components and office applications.
Provides updates, status and completion information to manager and/or users, via voice mail, e-mail or in person communication.
Refers major hardware/software problems to vendor/service personnel for correction and keeps records of service.
Administers Synergy, VMWare, Xenapp, Holiday, telephone and Kronos systems.
Troubleshoot technical issues related to data flow and integration of biomed equipment with the network.
Provides programming, support and maintenance of voice mail systems and phone equipment.
Performs and documents software updates to servers and workstations.
Performs other duties as required.
Hours*: Mon thru Friday 8am – 5pm (shares after hour duties with other individuals within the Information Technology department).
---
Perioperative Registered Nurse – Discover Vision Surgery & Laser Center, Leawood, KS
Job Summary: The perioperative Registered Nurse functions in all areas of the ASC: Preoperative area, Operating Room, Postoperative area, and Laser Procedure Room.
Minimum Requirements:
Graduated from an accredited school of nursing.
Current licensure as Registered Nurse; State of Missouri & Kansas (must possess one State and willing to obtain the other).
Current certification in BLS.
Current certification in ACLS or willingness to obtain.
Completed a minimum of one year nursing experience.
Major Functions and Responsibilities:
Admits, assesses, and prepares ambulatory care patients for surgery in an efficient and thorough manner in accordance with surgery center's policies, reflecting flexibility in rules and regulations, as indicated by individual patient needs.
Ability to perform pain assessment, intervention, management and patient/family education.
Performance reflects knowledge of care specific to ophthalmic surgery.
Has knowledge of basic cardiac monitoring with the ability to recognize rhythm changes
Assists with or initiates emergency measures for sudden adverse development in patients with cardiac arrest, respiratory distress, shock, etc. Demonstrates an ability to be flexible, organized and function under stressful situations
Assists ancillary services as needed.
Hours: Generally between 6:00a — 5:00p M-Th. No weekends, holidays or call.
---
Please email resumes to careers@discovervision.com or fax to (816) 350-4585.