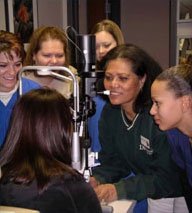 Discover Vision Career Opportunities
Competitive salaries and excellent benefits are merely two incentives to start a Discover Vision career. Though experience is preferred, or required for some positions, our on-site training program is unsurpassed within the region. To learn about the most recent opportunities or to apply for a position, send an email to careers@discovervision.com or fax resumés/cover letters to 816.350.4585. Click here to download an application.  Current Discover Vision career opportunities include:
Ophthalmic Technician – various locations
---
Ophthalmic Technician – Full-Time, Multiple Locations
Requirements:
Demonstrate advanced comprehension of the ophthalmic assistant skills as outlined by the Joint Commission on Allied Health Personnel in Ophthalmology (JCAHPO) as well as a basic understanding of optics and the ability to perform refractometry.
Comprehension of the principles of optics, refraction, and contact lenses.
Ability to perform comprehensive work-ups on 2-3 patients per hour.
Demonstrated computer literacy.
Responsibilities:
Some duties include gathering medical histories, patient work-up that includes pre-testing, visual acuities, applanation tonometry, pupil assessment, manual refractions, contact lens, OCT and Topography, Keratometry and scribing.
Visual fields and EMR experience preferred but willing to train the right person. Prefer COA or COT certification but will consider experience with potential certification.
Hours: Weekdays 8:00a – 5:00p with 1 weekly late night from 10:00am – 7:00pm (Monday or Thursday) as well as a Saturdays rotation (8:00am – 12:00pm), which are typically once per month.
---
Please email resumes to careers@discovervision.com or fax to (816) 350-4585.