Information About COVID-19
---
---
2021 Update on COVID-19 from Discover Vision Centers
With increased protocols in place, all Discover Vision clinics have resumed routine, medical and surgical schedules. We are accepting all appointment types including elective surgery. To schedule, please call 816.478.1230 or click here to request an appointment online.
Discover Vision Centers continues to make changes to mitigate the ongoing impact of the coronavirus in our clinics. As critical workers, our team began the vaccination process in January and will continue until the vaccine is made available to all staff members. Our health system stays up to date on the latest information about COVID-19. We follow guidance from the CDC, the American Academy of Ophthalmology, and our local authorities including city, county and state guidelines. Our top priority is continuing to provide the highest quality eye care while keeping our patients and team members safe. Until the vaccine becomes widely available to the public, we will continue to stay safe by following the pillars of infection prevention.
We've implemented several new policies and enhanced safety measures, including the following:
Wellness and temperature checks for employees.
Gloves are available to all employees but are only required in certain areas.
Face coverings are required for all employees.
Plexiglass barriers have been implemented at check-in/check-out, optical, and throughout the exam lanes as an extra layer of protection.
Enhanced cleaning of high contact areas – rooms and equipment are disinfected between each patient.
Frequent hand washing is encouraged and hand sanitizer has been placed throughout the clinic for patient use.
Social distancing procedures have been implemented in our waiting rooms. We ask that you social distance in our facilities whenever possible.
Clinic Visits are available at all 9 locations. Please call 816.478.1230 to schedule your appointment or request an appointment online.
Optical Visits do not require an appointment. However, you will still be screened upon entrance to our facilities.
Screenings – All patients and staff are screened before entry to our clinics. If you have a fever, cough, shortness of breath, or other COVID-19 symptoms, please reschedule your appointment.
Masks – wearing a mask helps keep each other safe. Following recommended guidelines, masks are required for our staff, patients and anyone entering our clinic and surgical locations. For those with medical conditions, sensory, cognitive or behavioral conditions that make it difficult to wear a mask, please notify our staff before your appointment and other arrangements may be made.
Visitors Limited or reduced to patient only when possible – guests are limited to the patient only unless accompanying a minor/parent or for medical reasons where the patient or their guest need to remain together. We understand that certain situations may require having a guest. In order to accommodate this request, we ask to be notified beforehand or upon arrival for your appointment. Otherwise, guests are asked to remain in the vehicle or return to pick the patient up after their appointment is complete.
---
Updated 05/15/2020 – Our Offices are Open
Updated 05/01/2020 – Our Offices to Reopen in May
As we all adjust to our new normal, we hope that you and your loved ones are safe and healthy. The week before the stay at home order was issued, Discover Vision made the decision to follow local, state and federal guidelines to stop all elective appointments and procedures. Over the past two months, our team has taken care of urgent and emergent patients only.
As an essential business, our offices will re-open the week of May 4th to provide routine, medical and surgical eye care. Call 816-478-1230 or schedule here on our website.
We have stayed in close contact with our family of 300 team members to discuss safety protocols and new initiatives like Telemedicine. Telemedicine has allowed our team to limit in person contact while providing the care our patients need. We have the capability to connect with patients through Video Visits at any time, from any place. Telemedicine will continue to be a convenient option for our patients moving forward.
Safety has always been a top priority.
Social distancing, thorough hand-washing and sanitizing have become a way of life for all of us. As we begin seeing patients in the office, several new protocols have been developed to keep you and our staff safe.
Appointments are limited to patients only, unless the assistance of a visitor is essential to your visit.
You will experience new safeguards such as temperature checks, masks, virtual check-in from the parking lot to limit the number of people in the building, a COVID symptom questionnaire, and the addition of plexiglass in common areas.
When visiting our optical shop, any frames that are touched are now placed in a designated area to be sanitized between use.
Our entire staff, from front desk to surgery center, will also be going through safety checks with temperatures logged several times a day.
The same rules still apply if you think you have been exposed to COVID-19 or have symptoms. If you feel sick and your appointment is not urgent or emergent, we would ask that you call and reschedule to a later date.
Our clinics will be open in May offering routine, medical and surgical eye care.
If you are interested in LASIK, SMILE, Full Focus or an Aesthetic procedure, schedule an evaluation with our team. If you are due for an eye exam, contact lenses or glasses, we are scheduling appointments in May and June. Call 816-478-1230 or schedule here on our website.
This pandemic has revealed a great deal about who we are as people. As a locally-owned business for nearly 50 years, we are proud to be a part of this community. We look forward to welcoming you back the next time we see you.
---
Updated 04/02/2020, After Mandatory Stay-At-Home Order
As new information about COVID-19 continues to unfold, the health and safety of our patients, doctors, and staff is our top priority. Eye care is considered an essential service; however, it has been recommended that all non-essential appointments be rescheduled after April 24th.
Based on current guidance, we have 3 offices (Leawood, Independence, and The Northland) that will remain open for emergent care and essential visits. Essential visits include diabetic eye care, AMD and other retina services, glaucoma treatment, and emergent / urgent care.
For contact lens wearers, you can still order contact lenses through our website or by calling 816-478-1230. Discover Vision Centers is following the American Optometric Association (AOA) and American Academy of Ophthalmology (AAO) guidelines that currently state contact lenses are safe to wear as long as proper hand washing is followed. For those who are sick or who have symptoms, it is recommended to stop use, throw away that pair of lenses, and switch to glasses until you are no longer sick. For more detailed information on wearing contact lenses during COVID-19, click here.
If you have ordered eyeglasses recently, please contact our office to arrange pickup or to confirm shipping to your home.
Our Call Center remains open throughout the mandatory stay-at-home order for Kansas City. You can reach our office by calling 816-478-1230 or by using the Contact Form here on our website. Coming soon, we will share more information on connecting with our team via Telemedicine.
Discover Vision has been actively preparing our offices through standard precautions, hand hygiene, rearranging waiting rooms to allow for social distancing, screening patients before check-in, limiting guests, and other increased control measures recommended by the CDC. We are keeping our employees updated on the latest information and encouraging those who are sick or who have been exposed to others with symptoms to stay home.
If You Have An Appointment: What You Need to Know
Due to the mandatory stay-at-home order for Kansas City, all non-essential appointments must be rescheduled. If you have not received a call from our team, please call 816-478-1230 or use our Contact Form and request to be rescheduled.
For those that do need to be seen, we are now screening patients before check-in, asking the recommended questions about recent travel, symptoms, and exposure to others who have had symptoms. If you, or anyone you have been in contact with, have experienced any symptoms (fever, cough, shortness of breath) within the past 14 days, we MUST reschedule your appointment to a later date. Likewise, you will be asked to reschedule if you have traveled to high risk areas in the past two weeks, including:
States with known widespread community transmission. Highest risk currently include California, New York and Washington state, with Massachusetts and New Jersey in the next tier.
Colorado, specifically Eagle, Summit, Pitkin and Gunnison counties.
Travel on a cruise ship.
International travel.
Limiting Additional Guests
At this time, we are not accepting guests for appointments, unless it is absolutely necessary. If it is not essential for your guest to participate in your appointment, they will be asked to wait in the car or return to pick you up after your appointment. Guests that do need to accompany patients will also be screened before entering our facility.
If you need to reschedule your appointment, please call 816-478-1230 or click here to reschedule online.
Our Renewed Commitment
In this time of uncertainty, we have a renewed commitment to you, our team members, and our community. We are all in this together and it is in our best interest to do our part to keep each other and our communities healthy and safe. Our hope is that by working together and taking care of each other we will come out stronger on the other side.
As our response to this situation evolves, we will continue to keep you updated. If you have any questions, please contact our office.
Helpful Tips on Prevention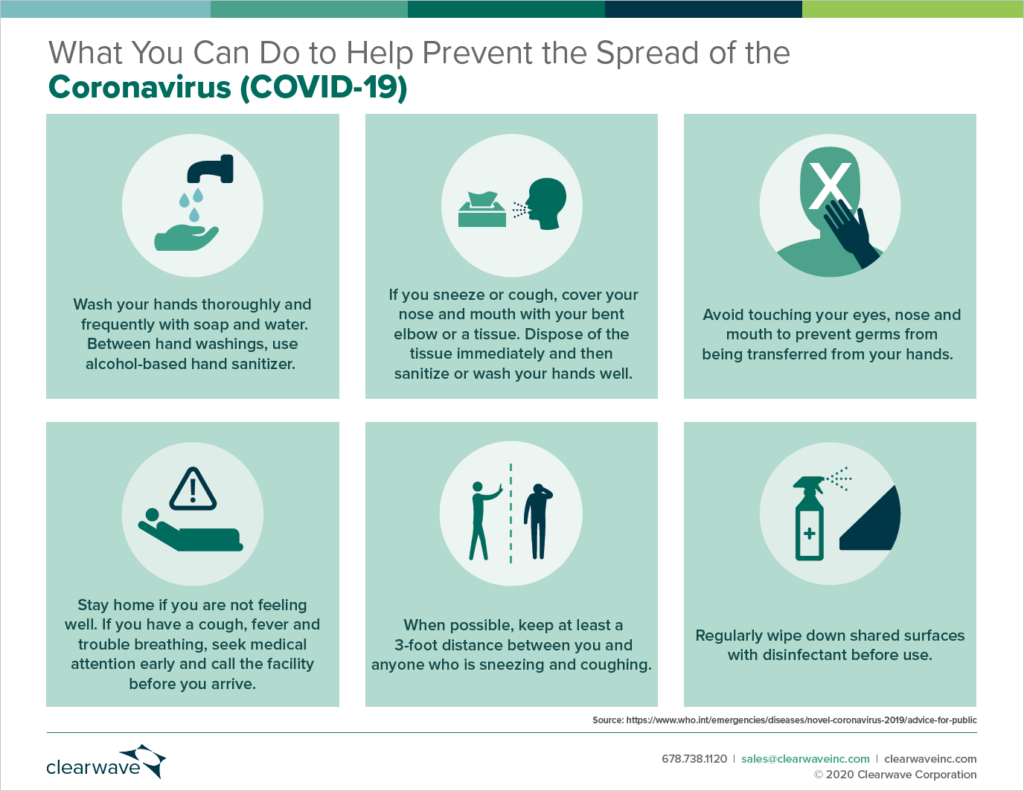 We continue to monitor the updates as they are released. For the most recent information, we recommend following the CDC's COVID-19 updates.
Dr. John Doane was interviewed by EyeWire News in an article called "US Ophthalmologists respond to COVID-19." Dr. Doane shared his thoughts on the pandemic and the steps that Discover Vision is taking to keep patients safe.
Read more here: https://eyewire.news/articles/us-ophthalmologists-respond-to-covid-19-outbreak/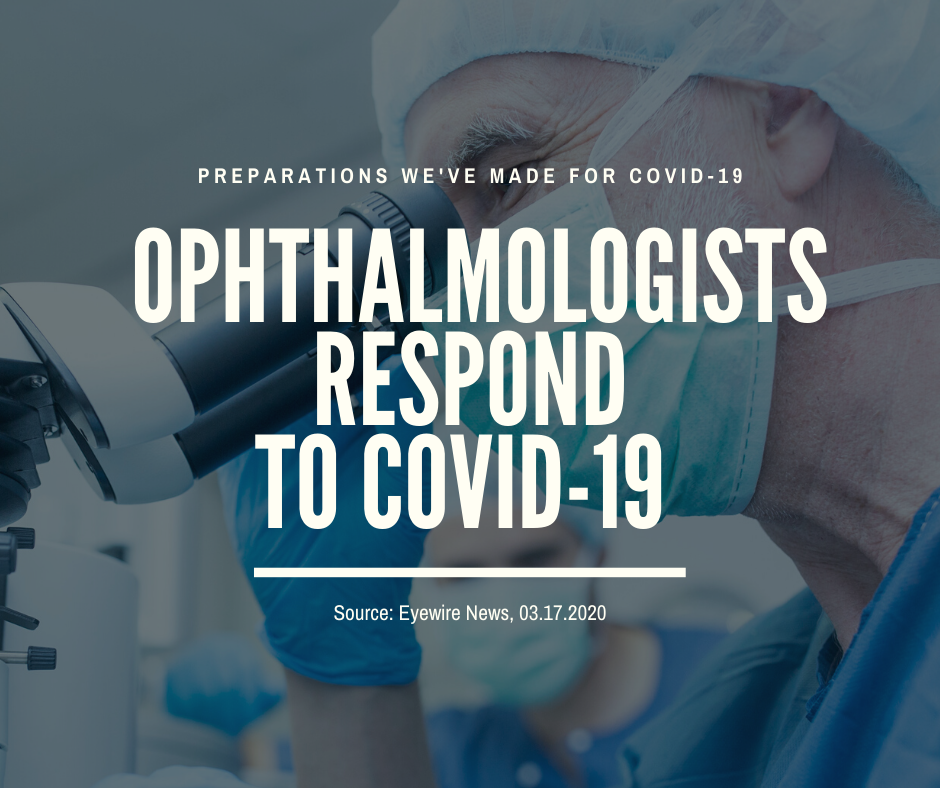 Patient Resources
Optical
Order Contacts
MyDVC Patient Portal
Discover Vision Blog