Routine Eye Care
---
---
Discover Vision Centers provides routine eye care including eye exams, and fittings for eyeglasses and contact lenses. For more information on contact lenses, please click here.
Routine Eye Care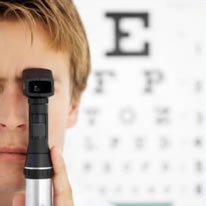 The doctors and staff of Discover Vision Centers are specially trained to provide you with a complete spectrum of eye care. Maintaining a routine eye exam is the best way to determine the health of your eye. Annual exams assist in the protection of your eyes, detecting any problems at the earliest stage.
Discover Vision accepts and participates in nearly all locally-available insurance plans. Your medical insurance may include an annual routine eye exam. In addition, you may have a separate insurance plan such as VSP which covers routine eye care. Typically, this type of insurance provides an annual eye exam and may also include a benefit toward contact lenses or eyeglasses. Every plan is different and the best way to find out if you have coverage is to call your insurance provider or provide this information to our staff before your visit. For the most up-to-date list of accepted insurance, please call 816.478.1230.
How often do I need an Eye Exam?
The need and frequency of eye exams vary with age, race, medical history, occupation and other factors. Regularity should be determined between you and your eye doctor. The American Optometry Association recommends the following schedule for routine care:
Eye Exam Frequency by Age
| | | |
| --- | --- | --- |
| Infant/Toddler | 0-24 months | By 6 months of age |
| Preschool | 2-5 years | At 3 years of age |
| School age | 6-18 years | Before first grade and every two years thereafter |
| Adults | 19-40 years | Every two to three years |
| Adults | 41-60 years | Every two years |
| Adults | 61+ years | Annually |
People with certain risk factors may need to see an eye doctor more routinely than others. Risk factors may include:
Family history of eye problems
African-American over the age of 40
Diabetic – for more information on diabetic eye care click here
Previous eye injury
If you or a family member is due for an eye exam, call 816.478.1230 today or click below to schedule an appointment online.
Routine Eye Care
Optical
Order Contacts
MyDVC Patient Portal
Discover Vision Blog