John F. Doane, M.D.
Dr. John F. Doane is a board-certified ophthalmologist and renowned LASIK surgeon in Kansas City. He specializes in gentle no-stitch cataract surgery, corneal transplantation, and refractive surgery, including LASIK Laser Vision Correction, SMILE Vision Correction, and Full Focus Vision (advanced cataract correction).
Dr. John Doane is the leader of Discover Vision's Refractive Team. He has been performing LASIK laser vision correction since it was first approved by the FDA in 1995. He is 1 of only 5 refractive surgeons in the country involved in the clinical trials for SMILE, the latest vision correction technique approved by the FDA in 2016. Dr. Doane has decades of experience and has performed thousands of procedures for patients from across the globe.
Voted by the readers of Cataract & Refractive Surgery Today, Dr. Doane is listed among the "Top 50 Opinion Leaders in Cataract and Refractive Surgery." He has also been named among the "Top 50 Laser Vision Correction Surgeons." These awards place Dr. John Doane among the top 5% of LASIK and Cataract surgeons. Dr. Doane is the 2017 President of AECOS, the American-European Congress of Ophthalmic Surgery, an esteemed group of leading eye doctors and executives dedicated to improving patients' quality of life through education and advocacy.
More on Dr. John F. Doane
Dr. John Doane was instrumental in perfecting "custom-fitted" LASIK procedures with the Visx WaveScan System. WaveScan is a break-through device which captures fingerprint-like technology of the eye. Discover Vision was the first facility in the world to use the WaveScan device, which provides the information needed to treat each patient individually. The result: LASIK, custom-tailored to suit individual lifestyles and needs. Through pioneering vision and surgical expertise, Dr. John Doane leads the way in cutting-edge LASIK and refractive procedures. His commitment to research allows him to determine which vision correction procedure, if any, is best for your eyes.
Domestically and internationally, Dr. John Doane is an active lecturer. He has written hundreds of peer-reviewed articles and book chapters. He has also edited two textbooks on refractive surgery.
Dr. Doane often participates in FDA or other clinical studies involving the latest advancements for both Laser Vision Correction and presbyopia-correcting intraocular lens (IOL) implants. Additionally, he is the Clinical Assistant Professor for the Department of Ophthalmology at the University of Kansas Medical Center. In 2012, Dr. John Doane was honored by the American Academy of Ophthalmology with the Senior Achievement Award. This award recognizes career contributions made to the Academy, its scientific and educational programs, and to the field of ophthalmology.
For more information on LASIK, SMILE, or to schedule your FREE evaluation, call 816.478.1230 today or click here to request an appointment. Want to find out what other Kansas City LASIK patients are saying about Dr. John Doane? Visit our patient testimonial page.
Education
Fellowship in Cornea, Refractive and Anterior Segment Surgery – University of Texas / Hermann Eye Center, Houston, TX, and Centro Oftalmologico Colombiano, Bogota, Columbia, 1995-1996
Residency in Ophthalmology – University of Kansas School of Medicine, Kansas City, KS, 1991-1995
Medicine Internship – University of Missouri-Kansas City, Kansas City, MO, 1990-1991
Doctor of Medicine – University of Kansas School of Medicine, Kansas City, KS, Alpha Omega Alpha, 1986-1990
Bachelor of Arts, Biology – University of Missouri-Columbia, Columbia, MO, Phi Beta Kappa, 1982-1986
Honors & Awards
Senior Achievement Award, American Academy of Ophthalmology (AAO)
Best LASIK Center, as voted by readers of The Pitch
Kansas City Super Doctors, KC Magazine
"Top 50 Opinion Leaders," Cataract & Refractive Surgery Today
Achievement Award, AAO
1st Place Film Festival, Am. Soc.of Cataract & Refractive Surgery, Refractive Complications
1st Place Film Festival, Intl. Soc. of Refractive Surgery, World Symposium
Visx Star Award Recipient, listed among "Top 5% Laser Vision Correction Surgeons"
Memberships
AECOS (American-European Congress of Ophthalmic Surgery), 2017 President
American Academy of Ophthalmology
Fellow, American College of Surgeons
American Society of Cataract and Refractive Surgery
American, Kansas, Missouri & Metropolitan Medical Associations & Societies
International Society of Refractive Surgery
Kansas City Society of Ophthalmology & Otolaryngology
Missouri & Kansas State Societies of Eye Physicians & Surgeons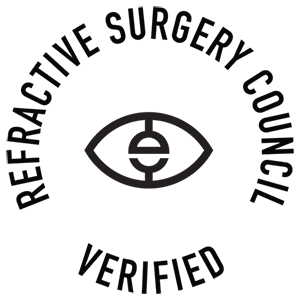 Additional Educational Programs
Verisyse Training Program, Denver, CO, 2005
Visx Train the Trainers CustomVue Protocol, New York, NY, 2003
C-Cap Training Program, Philadelphia, PA, 2002
Staar ICL Training Course, San Diego, CA, 2000
PresbyCorCor Training Course, Dallas, TX, 1998
Automated Lamellar Keratoplasty Course, Houston, TX, 1995
Future Focus, San Francisco, CA, 1994
Casebeer Keratorefractive Surgery Course, St. Louis, MO, 1993
Basic and Clinical Science Course, Houston, Texas, 1992