MyDVC Patient Portal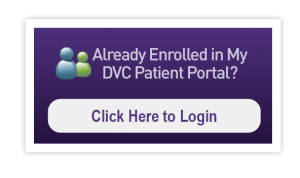 Connect with our office using the
My DVC Patient Portal. Send a sign up request to

[email protected]

.
MyDVC Patient Portal delivers the information you need through a convenient, easy-to-use website. To request access, send a sign up request to the email below, request information at your next appointment or call Discover Vision Centers at 816.478.1230.
Patient Portal offers the following services:
Schedule an appointment
Refill medication
Obtain a visit summary
Send secure messages to our staff
Request a copy of your most recent eyeglasses or contact lens prescription
Send a Patient Portal Sign Up Request:
To enroll in My DVC Patient Portal, please send an email to [email protected]. A member of our team will contact you to confirm the set up of your account.