RxSight Light Adjustable Lens (LAL) Surgery in Kansas City, MO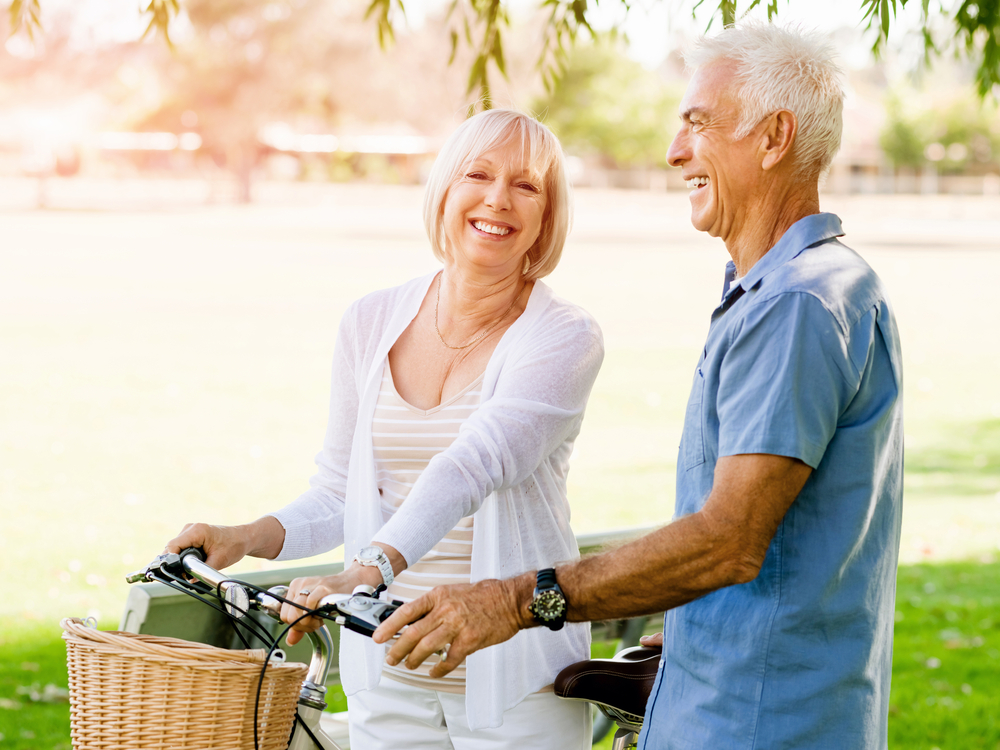 As leading cataract surgeons in the Midwest and one of the largest eye care practices in the United States, the eyecare experts at Discover Vision Centers offer the most advanced and revolutionary new intraocular lens technology in the form of Light Adjustable IOL Lens™ from RxSightⓇ. This cataract removal and refractive lens replacement treatment allows for your vision to be custom adjusted after intraocular lens implantation for exquisitely precise results that are tailored specifically to your unique needs.
Choose the light adjustable lens for the most successful, customizable, and precise results after cataract surgery.
What Is The RxSight Light Adjustable Lens?
The RxSight light adjustable intraocular lens is the most technologically advanced intraocular lens (IOL) in the United States, offering a glare-free, shine-free, and halo-free solution to nearsightedness, farsightedness, and even astigmatism correction. With most cataract lens implants "what you get is what you get" with the initial implantation. With the light adjustable lens (LAL) the final result can be customized to the patient's exact desires after the implant is already in the eye. This is done with a Light Delivery Device system which uses ultraviolet light to reshape the lens to perfect its focusing power. Twice as many eyes achieve 20/20 unaided vision with the Light Adjustable Lens than with standard cataract surgery. A key feature of LAL is Extended Depth Focus technology, which allows for optimal vision at all distances.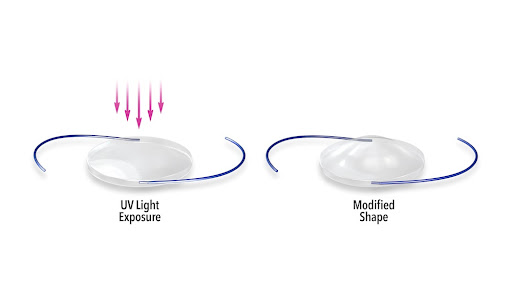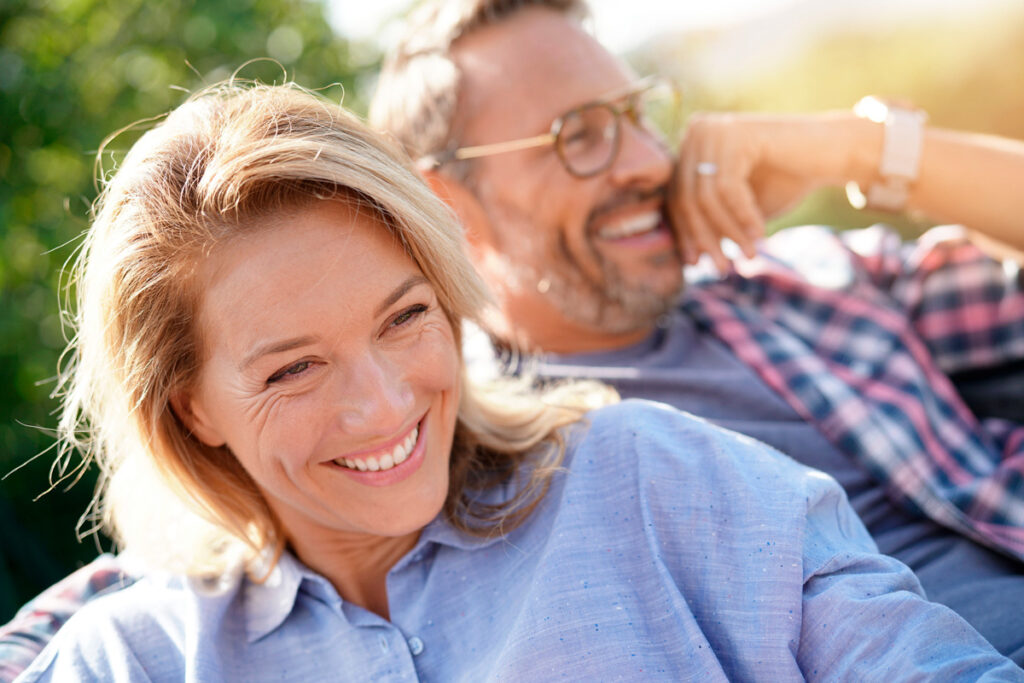 Features & Benefits of Light Adjustable Intraocular Lens
The unique feature of the RxSight Light Adjustable lens is that it can be adjusted after it is implanted in the patient's eye. Standard cataract surgery in a fair percentage of patients does not afford 20/20 unaided distance vision. With the Light Adjustable Lens eye surgery over 95% of eyes can achieve 20/20 unaided vision. If this is achieved most patients will be relatively if not completely free of glasses. Working with the eyecare team after the LAL lens is implanted the patient will help determine the exact power for the lens to be adjusted. In effect, the adjustment of the IOL is tailored and customized specifically for the individual eyes of each patient. When this is done for both eyes the patient should be able to see clearly up close and at distance.
LAL benefits include:
No halos
No glare
Painless, nonsurgical adjustments
Fine-tune near vision but maintain distance vision with both eyes open
Twice as likely to reach 20/20 vision 6-months post-operation than with a standard IOL
RxSight LAL Surgery Uses and Applications
The RxSight light adjustable lens is a cutting-edge vision correction procedure allowing for precise, customizable results for your unique lifestyle and vision needs. There are two components to the process. The light adjustable lens that consists of a special photosensitive material. When it is exposed to ultraviolet light from the light delivery device it changes shape to focus light on the retina. The treatment sessions last from 30-120 seconds.
Cataracts are a disease condition of the aging process. Over time, the lens in your eye may become blurry or clouded. When cataracts begin to interfere with daily activities, such as reading and driving, ask your eye doctor about cataract surgery.
Having light adjustable lenses for cataracts to replace the cloudy lens in your eye also provides the opportunity to correct other refractive errors, such as nearsightedness, farsightedness, astigmatism, or presbyopia.
Nearsightedness can be resolved with the light adjustment process. This will provide an excellent distant vision.
Farsightedness can be corrected by your eye doctor with the LAL. With the adjustable lens, your lifestyle requirements can be addressed uniquely for your situation.
Light Adjustable Lens can correct astigmatism. Any astigmatism, pre-existing or resulting from surgery, can be reduced or eliminated with the adjustment process. This will improve the patient's vision at all distances.
Presbyopia is a common age-related condition where the eyes gradually lose their ability to focus on nearby objects. It typically begins around the age of 40 and causes difficulty with tasks like reading or seeing small print up close.
Schedule an RxSight IOL Consultation, Virtual or In-Person
The Light Adjustable Lens (LAL) is an investment in your vision and your future. Choosing the Light Adjustable Lens means that you will have the opportunity to fully customize your vision after surgery. Schedule a consultation, virtual or in-person, with our team to determine if you are a candidate for the RxSight IOL.
GET CONSULTATION
How Does RxSight Light Adjustable Lens Work?
As the most technologically advanced adjustable IOL option, the RxSight light adjustable lens implant is an innovative technology implant and allows our surgeons to adjust your vision and fine-tune your results after cataract surgery.
The LAL implant is made of a photosensitive material. This means that the polymers within the artificial intraocular lens can move or change position within the lens when the implant experiences UV exposure for the Light Delivery Device, LDD. When the polymers change position in the lens the light bending power of the implant alters the refractive error of the eye to better focus light on the retina.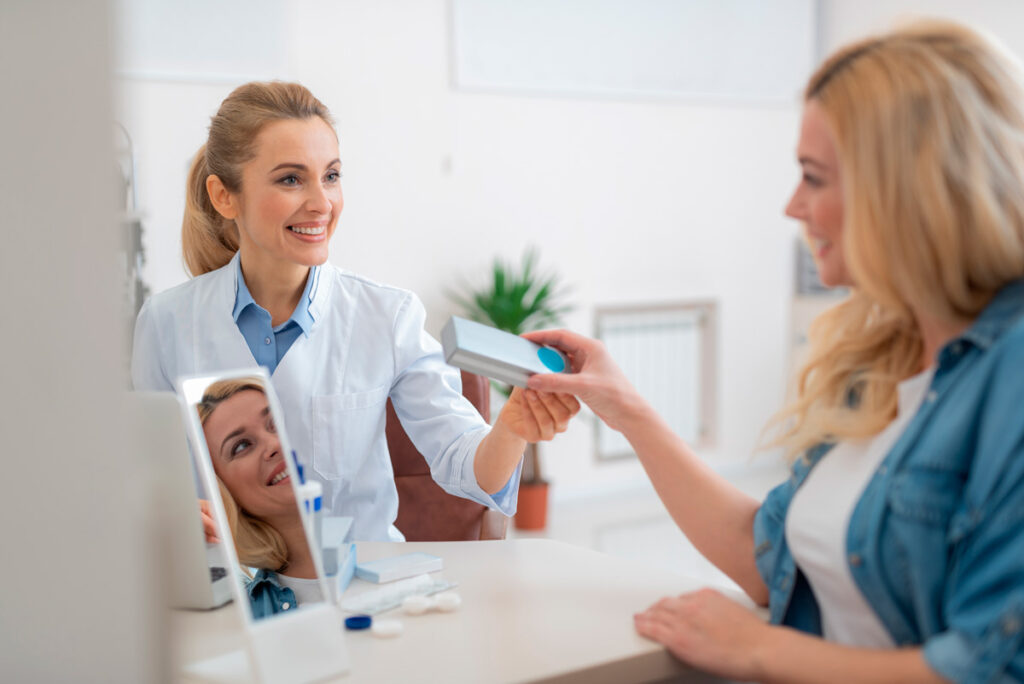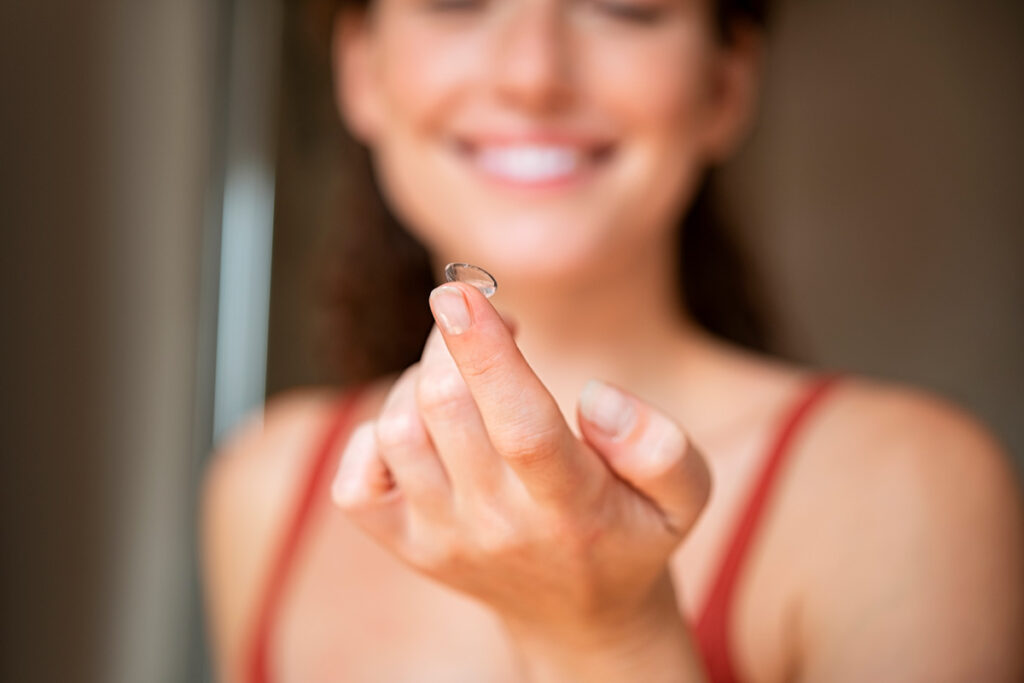 About The Light Adjustable Lens Surgery
Step 1. Preparing for Surgery. You will first meet with one of our experienced surgeons to discuss your desired outcome for your vision and determine the best treatment for you and your lifestyle.
Step 2. LAL Surgery. LAL surgery is effectively the same as any other cataract surgery using an intraocular lens implant.
Step 3. Recovery. After surgery, you will need to take special precautions until your light adjusting lens prescription is "locked in" at your last post-operative adjustment appointment. Your doctor will provide you with special UV protective glasses to wear whenever you're outside. Consult your doctor for any additional post-op instructions.
LAL IOL Surgery Recovery & Results
After surgery, you will need to take special precautions until your light adjusting lens prescription is "locked in" at your last post-operative adjustment appointment. Your doctor will provide you with special UV protective glasses to wear whenever you're outside to avoid direct sunlight. You also will be asked to apply topical drops for the first month after surgery. You should be able to return to work on the first postoperative day with light activity. You should be able to resume regular physical exercise at 1 week after surgery. Consult your doctor for any additional post-op instructions.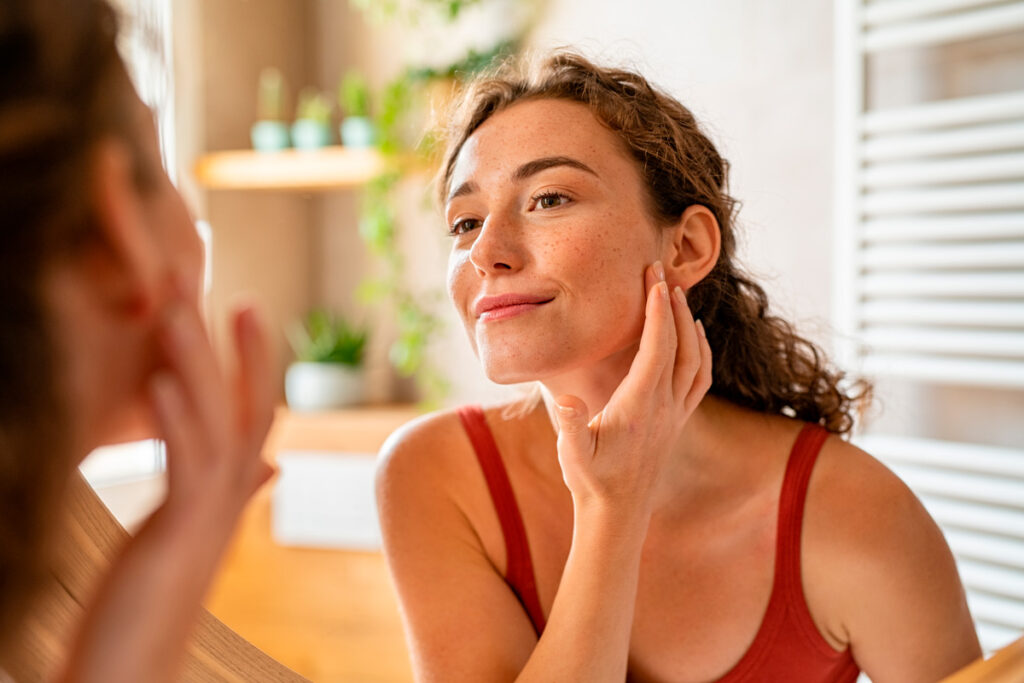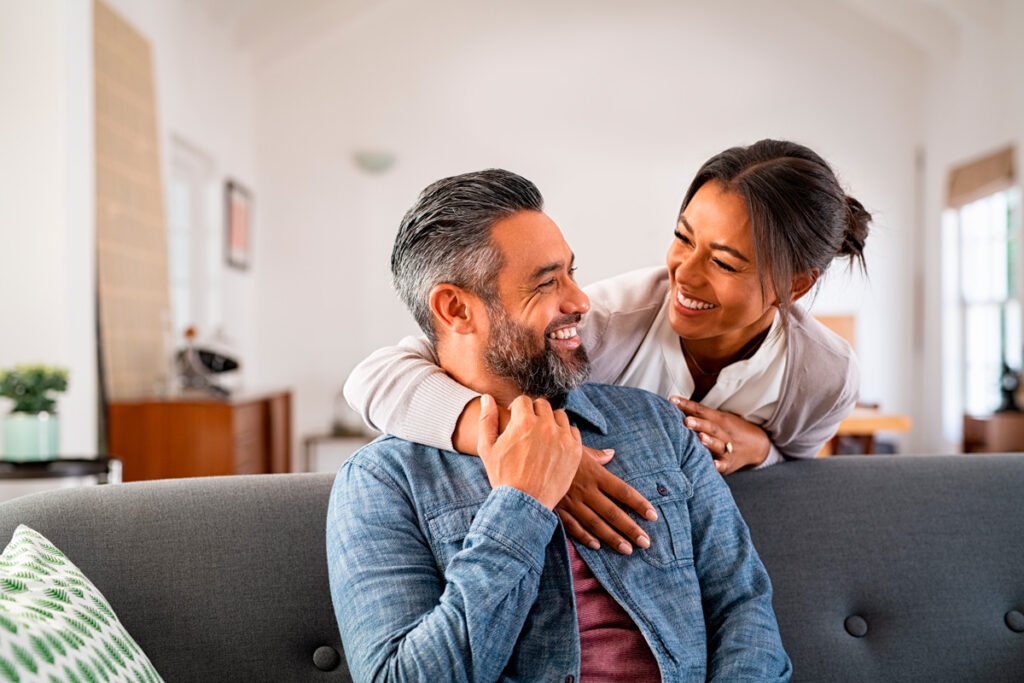 Who Is a Candidate for Light Adjustable Lenses?
The Light Adjustable Lens is approved for use during cataract surgery. Discover Vision Centers has been involved with the LAL technology and its FDA approval process since 2008. The light adjustable intraocular lenses can also be used for refractive lens replacement procedures. Potential candidates for vision correction with Light Adjustable Lenses include:
Patients with astigmatism
Patients whose pupils dilate sufficiently
Do not use medications that increase sensitivity to UV light (if these are temporarily stopped patients can have LAL implants)
Do not use medications that are known to cause retina damage
Patients that do not have a history of herpes eye infections
The best way to determine whether the light adjustable IOL is right for you is to discuss your unique lifestyle, refractive errors and your postoperative goals with an eye doctor you trust.
Why Choose Us for LAL by RxSight Procedure in Kansas City, MO?
The refractive surgeons at Discover Vision Centers are the leading experts in light adjustable lens surgery in Kansas City and the Midwest. Dr. John Doane and his FDA study team are the longest-tenured LAL FDA trials team in the US. They have worked diligently since 2008 to bring the LAL to patients in the US. Discover Vision Centers was one of the first 3 centers in the US to offer this ground-breaking technology after FDA approval. Our team of experienced eye care providers will ensure that you have the highest quality of care, from your initial cataract surgery consultation to your final postoperative adjustment appointment. Discover Vision Centers offers industry-leading rates of patient satisfaction, and we look forward to working with you to customize your LAL experience to your unique needs & lifestyle.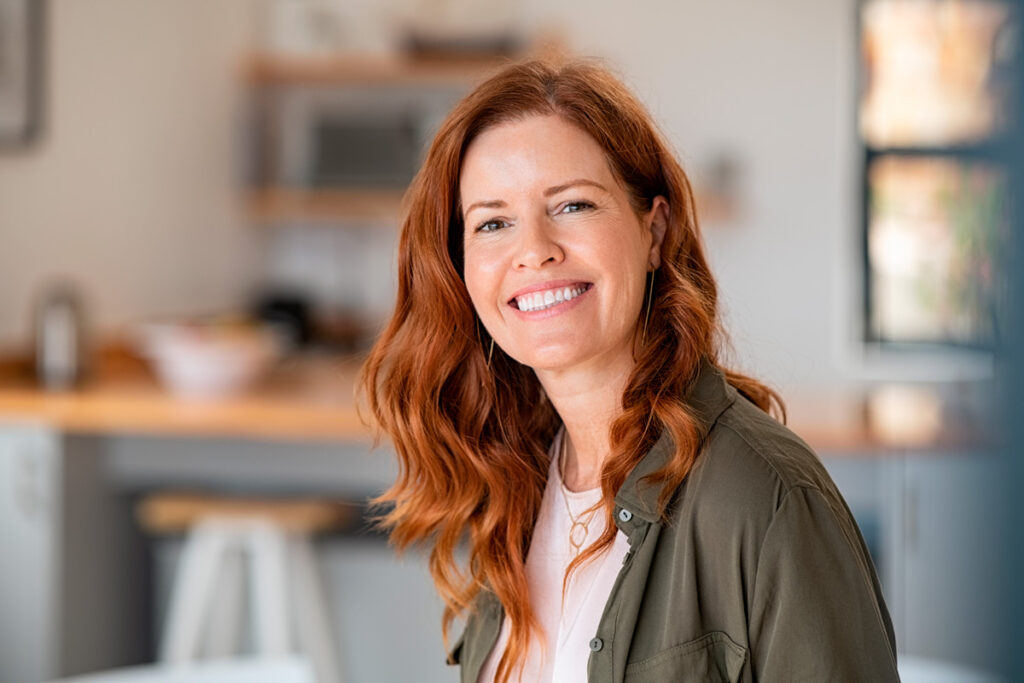 About Our LAL Surgeons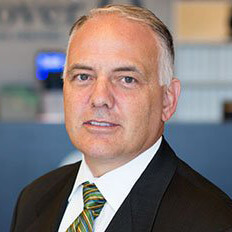 Dr. John F. Doane
Dr. Doane has been involved with the LAL technology since 2008 as an FDA investigator and he continues to work with RxSight in ongoing projects. Dr. Doane believes that the most advanced lens option patients can experience is the Light Adjustable Lens which affords unique customized treatment to each patient.
RxSight Light Adjustable Lens Reviews
RxSight Light Adjustable Lens Cost & Financial Options
We offer a variety of payment options for our accurate surgical vision correction. FSA and HSA accounts are a great option to pay for your procedure tax-free. Financing is also available based on approved credit through CareCredit. If approved, financing options are available at 0% interest for up to 24 months, or for extended payment plans up to 60 months.
Areas We Serve
If you search "light adjustable lens near me," you'll find that Discover Vision serves the Greater Kansas City area. We have nine clinic locations in Missouri and Kansas and three eye surgery centers to serve you. In Missouri, our clinics are located in Blue Springs, Lee's Summit, Independence, Harrisonville, Raymore, and North Kansas City. In Kansas, our eye clinics are located in Leawood, Olathe, and KCK / The Legends.
To find out if the light adjustable lens is an option to treat your cataracts, contact our team. You can schedule an appointment online or by phone. A consultation is the best way to determine which procedure is best for you.
Schedule LAL Appointment
100% Free of Charge!
Save Time
Meet 1:1 With Our Team Online or In-Person
Get All Your Questions Answered
Find Out if You're a Candidate
Learn About Affordable Financing Options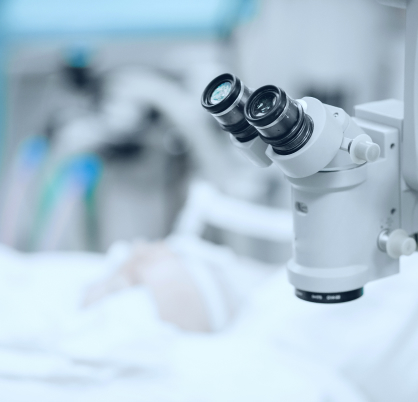 Contact Us for RxSight Light Adjustable Lens in Kansas City Today
FAQs
How many light treatments do I need?
Most patients need between 3-4 light treatments to reach the desired postoperative prescription. We will work with you to determine how many light treatments are necessary to reach your desired vision goals.
What makes the Light Adjustable Lens different from other IOLs?
While other intraocular lenses change very little in prescription after surgery day, the Light Adjustable Lens is designed to be fine-tuned at a series of adjustment appointments post-operation. This allows for truly personalized results and optimal vision, both near and at a distance.
Why do I need to wear special UV protective glasses?
The special UV protective glasses shield your eyes from UV rays that can alter the prescription of your light adjustable lenses before it is actually "locked in." It is important that you continue to wear your UV protective eyewear whenever you're outside, from immediately following surgery until your final prescription adjustment appointment, unless otherwise advised by your cataract surgeon.
What can happen if you don't wear protective glasses or eyewear after light adjustable lens implantation?
If you don't wear protective eyewear when outside, immediately following refractive surgery until your final light treatment, the prescription of your light adjustable lenses may be altered due to UV light from the sun. This could affect the fine-tuning of your prescription and negatively impact your LAL results.