Intraocular Lens Implant (IOLs) Surgery in Kansas City, MO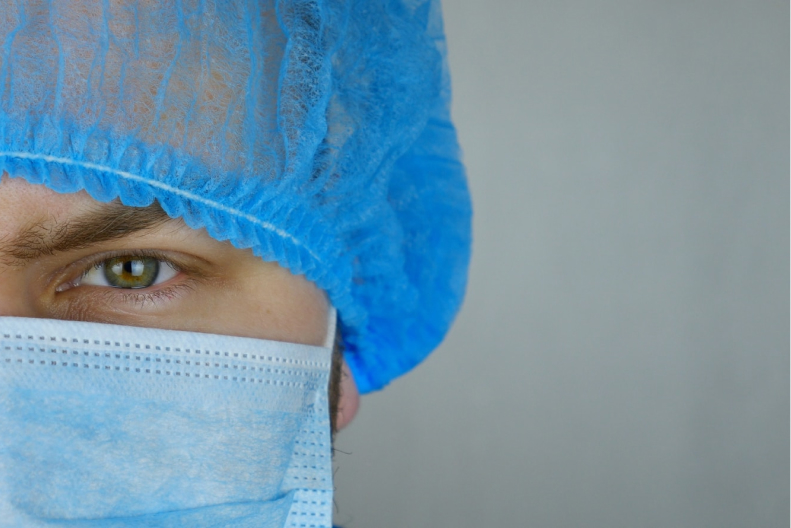 At Discover Vision, our doctors have helped many people achieve the benefits of Intraocular Lens Surgery, or IOL surgery in Kansas City. IOL surgery is a procedure to replace the natural lens of the eye with an artificial lens. The surgery is done to correct vision problems such as presbyopia, cataracts, or when the intraocular lens has become dysfunctional and can no longer focus correctly. Intraocular lens implants for vision correction are generally considered safe and effective for improving vision. Advancements in technology paired with medical expertise and precise laser surgical techniques make intraocular lens surgery an extremely precise procedure. Our goal is to provide you with your best possible vision using a treatment plan designed for you and your lifestyle. To learn more about IOL upgrades at Discover Vision Centers, schedule a consultation with our team.
What is an Intraocular Lens (IOL)?
An intraocular lens is a small, artificial lens implanted into the eye to replace the natural crystalline lens. The natural lens of the eye is part of the optic system that helps focus light onto the retina. As we age, the lens loses its ability to focus, and eventually also becomes cloudy. An artificial intraocular lens is made up of high-quality clear plastic, silicone, or acrylic. Artificial lenses are implanted into the eye during a surgical procedure through a small corneal incision following the removal of the natural lens. IOLs are about the same diameter as a dime, and are designed to last a lifetime.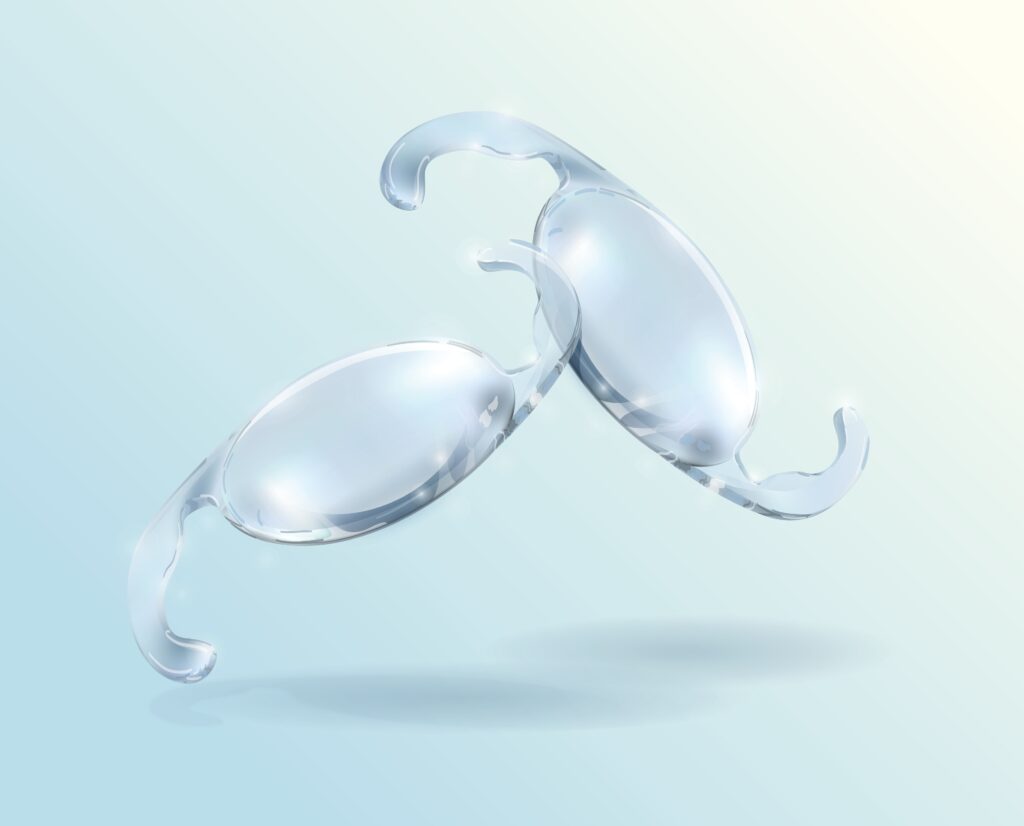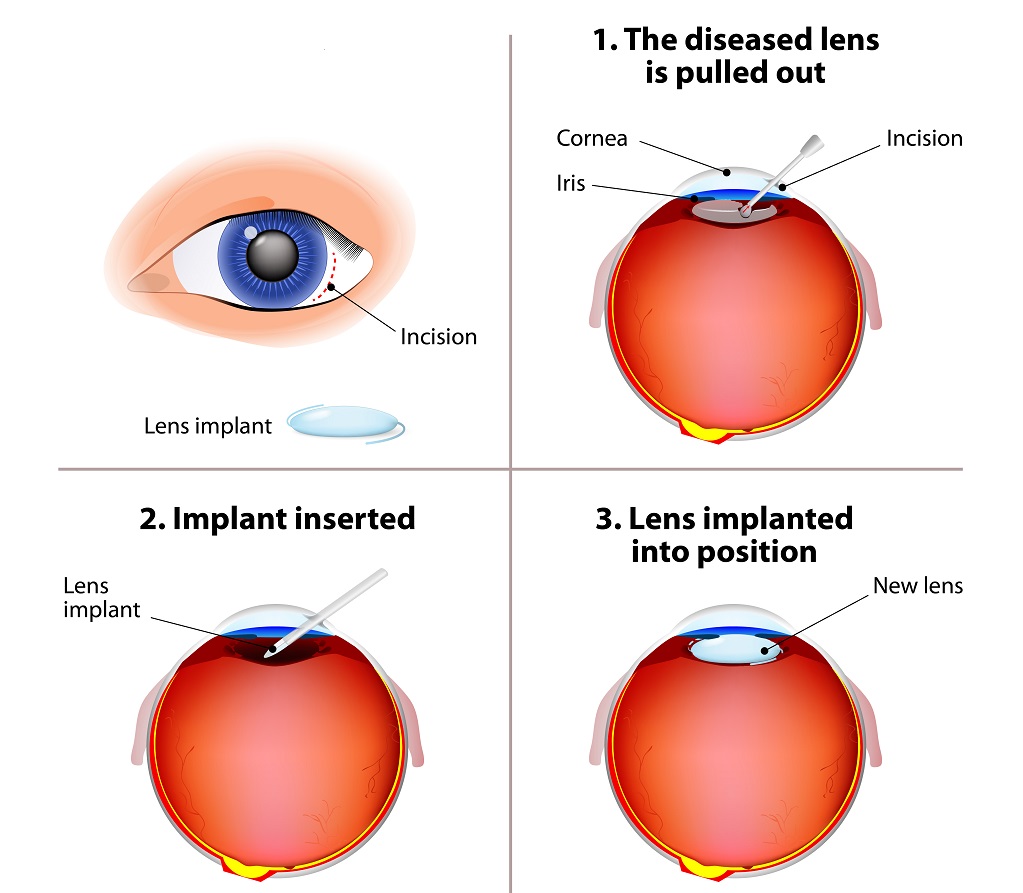 How Do IOL Implants Work?
Intraocular lens implants IOLs) work by replacing the eye's natural lens with an artificial lens. The natural lens helps refract and focus light onto the retina, and helps shift focus between near and far objects. An artificial lens is designed to mimic the function of a natural lens. IOLs are made from high-quality acrylic, silicone, and plastic, and are implanted into the eye through a small corneal incision. There are different types of intraocular lens technology available, with unique features to address specific vision problems. IOL surgery is a common procedure for treating cataracts and other vision problems.
What Are IOLs Used For?
Cataracts cause a loss of clarity or a cloudy lens and will also degrade our vision over time. A cataract surgery intraocular lens (IOL) can be the solution to this problem. After the cloudy cataract is removed, an IOL is inserted to restore vision. There are different types of IOLs which can provide clear vision.
As our eyes age, the natural lens inside the eye will lose the ability to see small things up close without the aid of bifocals or reading glasses. This eye condition is called presbyopia and will occur in most people as they reach their early to mid-40s. Presbyopia causes blurry near vision and eye strain.
At Discover Vision Centers in Kansas City, MO, we offer many solutions to fix astigmatism. Some options include laser vision correction surgeries,such as SMILE, LASIK, and PRK. We also can cure astigmatism with the use of intraocular lenses for astigmatism. We use astigmatism correcting intraocular lens implants in several forms including: single focus toric IOL's, multifocal toric IOL's and the most precise IOL outcome with the Light Adjustable Lens.
Intraocular lens implants can also be used to solve for nearsightedness or myopia. The implants can be used for people that could otherwise undergo laser vision correction but the doctor feels they would be better off with a phakic intraocular lens implant like the Visian Evo implant or they can have natural lens replacement surgery with a man-made intraocular lens implant called a psudophakic lens implant.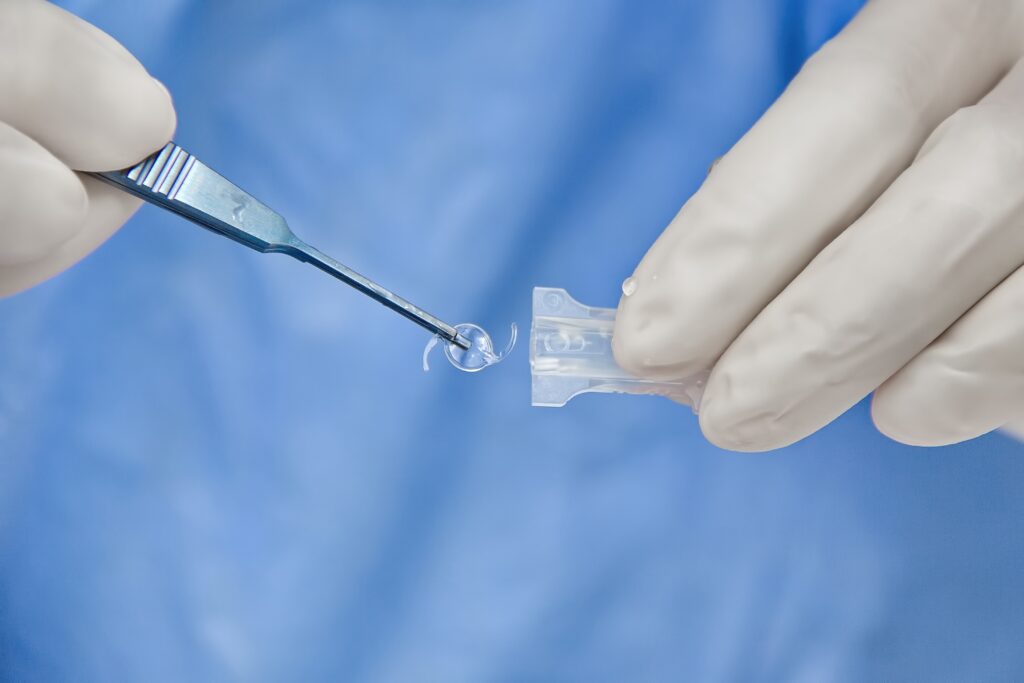 Intraocular Lens Types
Monofocal Intraocular Lens
Monofocal lenses are a single focus lens implant that provides clear vision at a fixed distance. Some patients may want their near vision best so a power to focus for near would be selected, but this patient would require glasses to drive. With a single focus implant, a patient can have one focus point or the other but not both in the same eye.
Trifocal & Multifocal Intraocular Lens
Multifocal IOL implants are a premium type of implant for those patients that wish to reduce or eliminate the need for glasses and contact lenses at all distances. The current multifocal lenses available give a binocular vision that has focal points to allow distance vision (4-6 feet and beyond), intermediate (arm's length e.g. computer screen, vehicle dashboard), and near vision (reading a book, cell phone, etc.)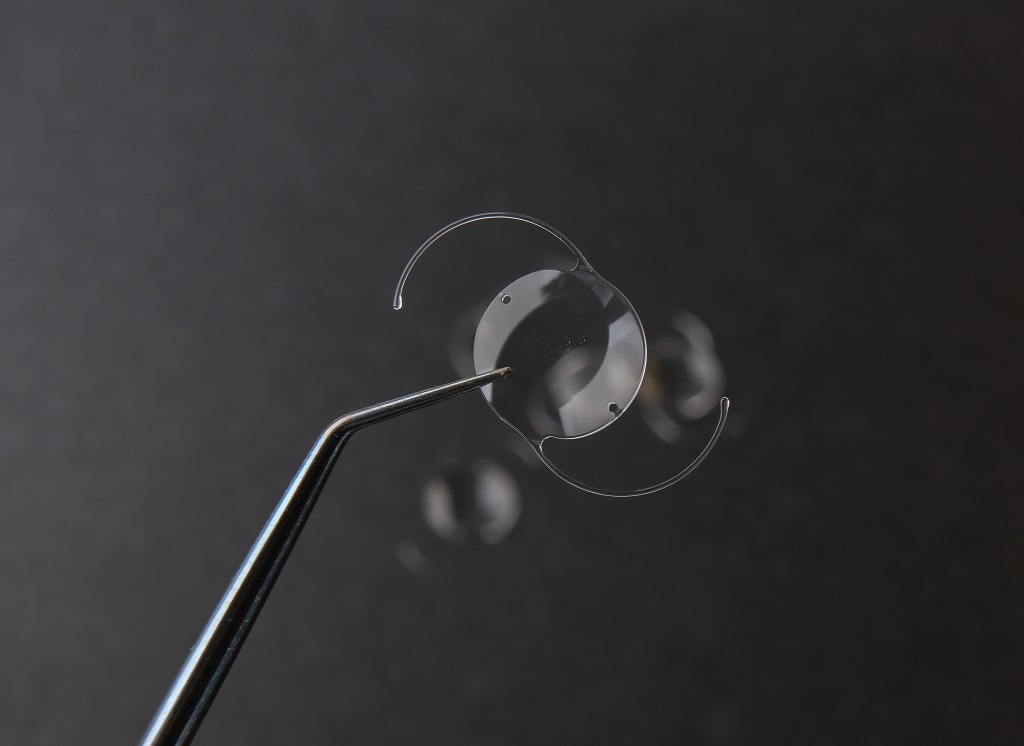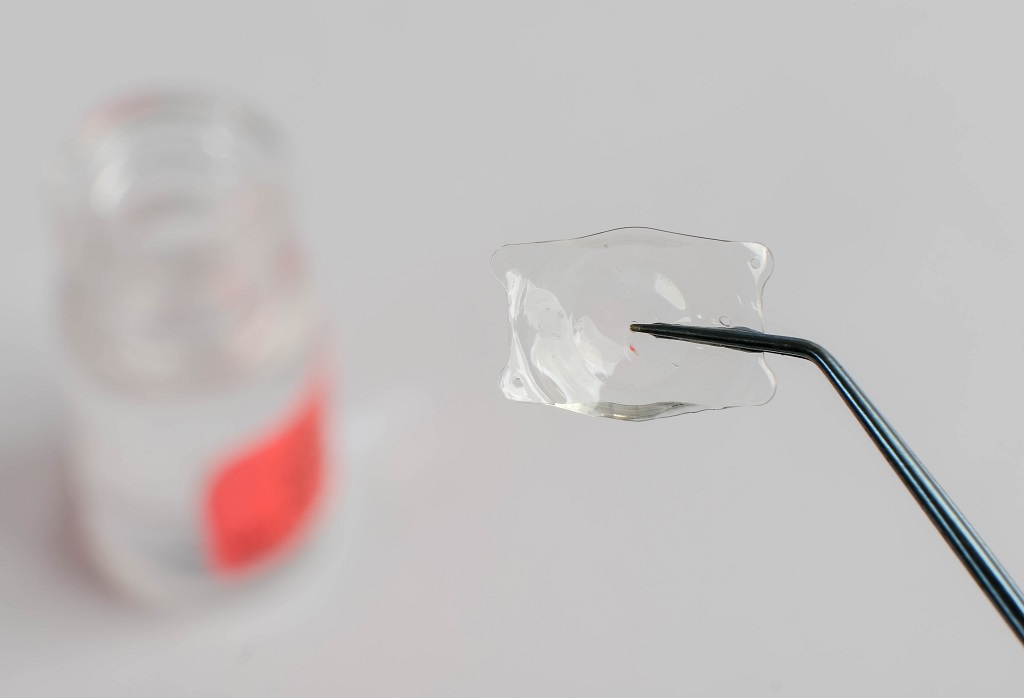 EDOF
Extended Depth of Focus ( EDOF ) implants are a separate technology from single focus implants or multifocal implants. These implants give a greater range of vision than a single focus implant but not all three focal points like a trifocal implant. These lenses expand to give distance and intermediate or intermediate and near focal points. Usually one eye would be set with the prior focal points and the other with the later so all three focal points are covered. These implants do not have as much glare and halos as trifocal implants but more than a single focus implant.
Accommodating IOL
If accommodating IOL's worked perfectly it would be the only implant we would use. To date these implants have not lived up to the eventual hope. The issue is that it is not assured that the patient will achieve all three focal points reliably. Yet, the research into these technologies continues.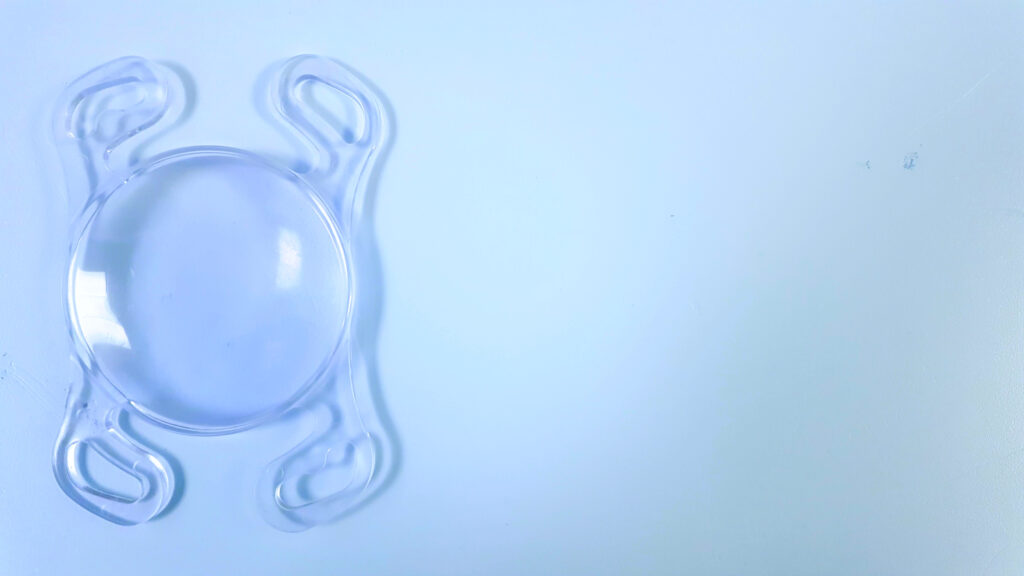 A Toric IOL is a specialized lens used to correct astigmatism during cataract surgery. It is designed to compensate for the irregular curvature of the cornea to provide clearer vision. A toric IOL is customized for each patient to address their specific degree of astigmatism.
Light Adjustable Lens implants are a category of implant unto their own. Dr. Doane has been involved with the development of this lens type since 2008 as an FDA principal investigator and he has been implanting them commercially since 2018. The Light Adjustable Lens is an ideal option for patients who want to minimize glasses or contact lens wear. They are ideal for all patients but are incredibly suited for those patients who have had prior refractive surgery, have done monovision in the past, or put a premium on quality of vision. The reason for this is that the lens implant can be adjusted while it is in the eye. This creates a custom-tailored implant for each individual eye based on the patient's individual vision needs, lifestyle, and activities.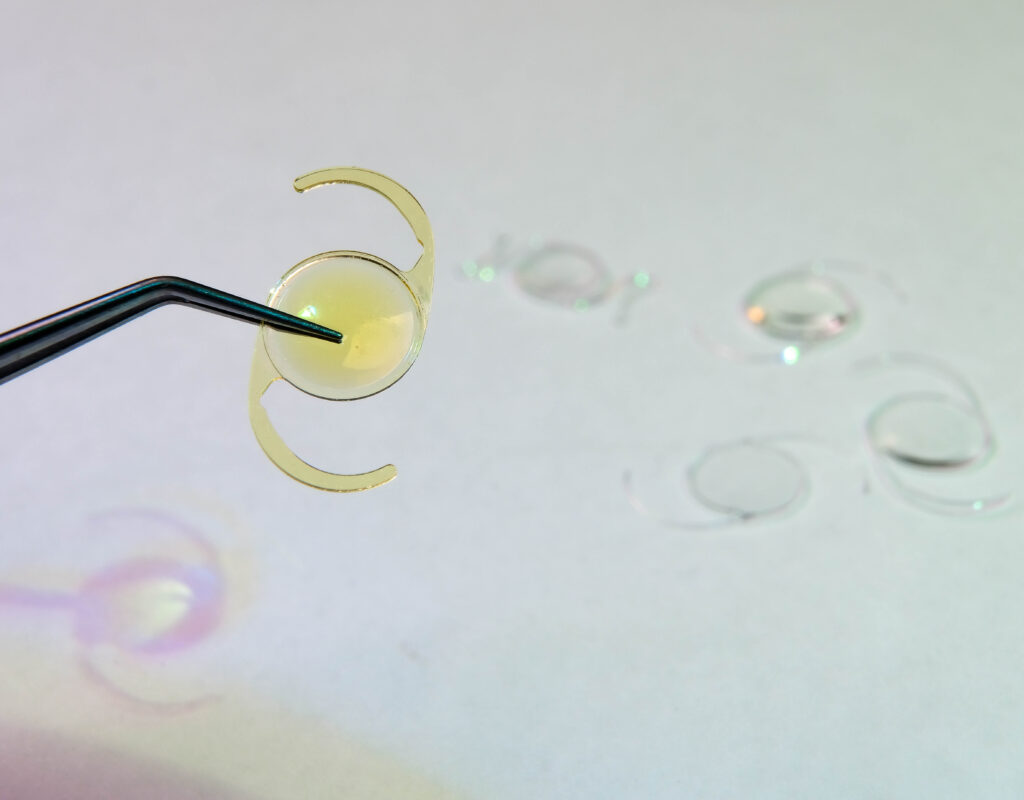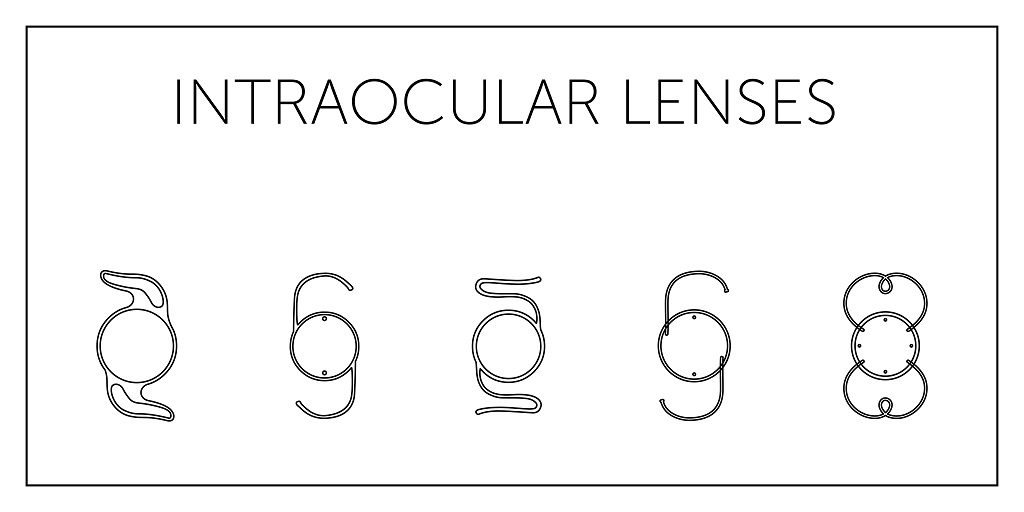 Standard Single Focus IOL vs Advanced IOL
Standard single focus IOL (intraocular lens) is a commonly used implant for intraocular lens insertion in cataract surgery. It has a fixed focus, which means that it can only provide clear vision at one distance. This means patients who chose this type of IOL, over other iol options, will need glasses for reading and other near activities.
On the other hand, advanced IOLs are designed to provides a wider range of vision, reducing the need for glasses after surgery. They are a custom implant. There are several types of advanced technology IOLs including the following:
Toric IOLs, which are designed to correct astigmatism in addition to providing clear vision
Multifocal ( bifocal or trifocal ) implants can give vision at more than one focal point specifically distance ( 8 feet to the horizon ), intermediate ( 2 ft to 8 ft ) and near ( 2 feet and in ).
Extended Depth of Focus IOLs expand from one focal point distance into the adjacent focal point distance so an individual eye may have distance and intermediate or intermediate and near as the strong point of the individual eye.
LAL, or the Light Adjustable Lens implant, is the most customizable IOL available. The LAL can correct astigmatism, near-sightedness, or far-sightedness. The LAL also has the advantage of an extended depth of focus, allowing for the broadest range of clear vision.
IOL Treatment Process
Cataract lens implant surgery is performed on an outpatient basis. It is the most frequently performed surgery in the world with over 4 million procedures performed in the US annually alone. In some cases, both eyes are treated on the same day, and in others, they may be separated by days or weeks.
Pre-Operative
At Discover Vision Centers, here are some things to expect immediately before IOL implant surgery:
Surgery occurs at our outpatient surgery centers
You should expect to be at our surgery center for 2 hours
Various levels of sedation can be used depending on your eye health and needs
The pupil is dilated
Intraocular Lens Implant Surgery
Intraocular lens (IOL) implantation involves the removal of the natural lens of the eye which has become cloudy due to cataracts, and the insertion of an artificial lens in its place. Here are some key points about the intraocular lens implant procedure:
IOL surgery is a safe and effective procedure that takes about 15 minutes to complete
a small 2-3 mm incision is made in the cornea
An ultrasound handpiece breaks the lens into minute pieces which are then gently removed or vacuumed out
Your natural lens is removed, and an artificial lens is put in its place
The corneal incision is self-sealing, and feel near normal within hours of surgery
How Much Does Intraocular Lens Implant Cost in Kansas City?
At Discover Vision, the cost of refractive IOLs for someone who does not have cataracts is an out-of-pocket expense. For a patient who does have cataracts, there is an additional cost for premium IOLs, or what we call Full Focus Cataracts. For astigmatism and cataract patients, the price for Toric IOLs is also considered an upgrade that is paid in addition to the cost of cataract surgery. Several financing options are available through CareCredit, subject to credit approval.
Why Choose Discover Vision Center for Your IOL Procedure in Kansas City?
At Discover Vision, patients can expect to receive top-notch care from our team of board-certified ophthalmologists who possess extensive training and expertise. Our staff is dedicated to working with patients to create a customized treatment plan that fits their unique lifestyle and vision needs.
We understand the importance of accessibility, and the convenience of multiple locations allows us to provide access to quality eye care for patients in the surrounding communities. Patients can trust in our commitment to providing the latest advances in eye care technology, ensuring they receive the most effective treatments available. By working with the experienced staff at Discover Vision, patients can rest assured that their vision is in good hands at a location that works for them.
Our Kansas City IOL Surgeons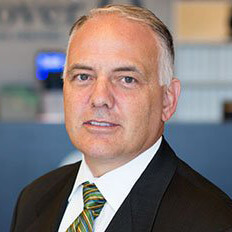 John Doane, MD
Dr. Doane is a leading lens implant surgeon in the United States. He actively conducts clinical trials for advanced lens technology. Dr. Doane has performed surgery on patients from 42 states and 25 countries.
Neeti Alapati, M.D.
Neeti Alapati, M.D. is a board certified ophthalmologist who specializes in the care and treatment of patients with glaucoma.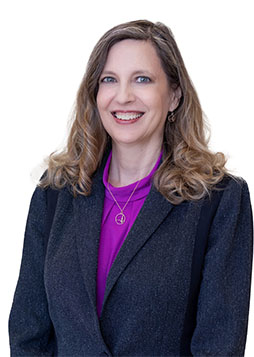 Susan Mosier, M.D.
Susan Mosier, M.D., F.A.C.S. is a Board Certified ophthalmologist and surgeon at Discover Vision in Leawood. She provides examination, diagnosis, treatment and surgery for diseases and injuries of the eye.
Intraocular Lens Implants Reviews
Schedule an Appointment at IOL Surgery Center in Kansas City, MO
100% Free of Charge!
Save Time
Meet 1:1 With Our Team Online or In-Person
Get All Your Questions Answered
Find Out if You're a Candidate
Learn About Affordable Financing Options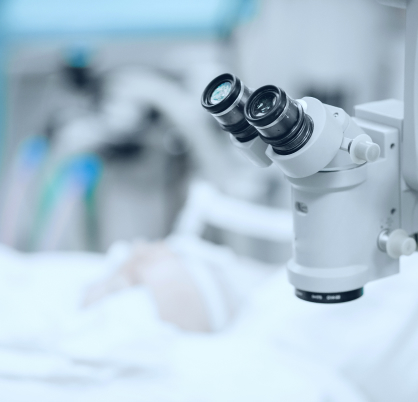 Contact Us
FAQs
What is the difference between IOL vs LASIK?
Laser vision procedures such as SMILE or LASIK work very well at correcting nearsightedness and astigmatism.  As our eyes age and we encounter presbyopia (the loss of focusing ability for near tasks), reading glasses are then required. Some patients that are presbyopic will elect to have one eye targeted for the best distance and the other eye will be a little nearsighted to help with near vision and reduce the need for reading glasses.  This is referred to as monovision.  
Multifocal IOLs can work well for presbyopic patients that either do not tolerate monovision or prefer equal or binocular vision.  Our natural lens is the root cause of presbyopia and these IOLs can correct the vision at distance, intermediate and near.

Who is a candidate for IOL surgery in Kansas City?
Any patient with a cataract is a candidate for a lens implant. Without a lens implant, an extremely thick pair of glasses would be required to function. Some patients without cataracts are also candidates for lens implant surgery. This surgery is called refractive lens replacement. Patients are typically over age 40 and want to improve their distance and near vision (presbyopia). 
Is IOL implantation painful?
Modern cataract and lens implant surgery is typically painless, and patients are monitored throughout the procedure to ensure their comfort and safety. The procedure is quick, and performed under local anesthesia. It is possible to experience slight watering, foreign body sensation, or light sensitivity during early recovery. Symptoms resolve quickly, and sometimes even by the following day.
Does a multifocal lens function like the natural lens of the eye?
Multifocal lenses can provide distance, intermediate and near vision, but they don't function in the same way that our natural crystalline lens does before the onset of presbyopia.  The natural lens changes curvature to induce different powers depending on the distance at which we are looking.  A multifocal lens implant has concentric rings that have different powers which then places images from the different distances on the retina.  
Can IOLs develop cataracts?
Once our natural lens is removed, cataracts will not occur again.   However, the capsule of the eye that holds the natural lens is left in place and also holds the new artificial lens.  After placement of the new lens this capsule will often get cloudy or opacified, occurring in up to 90% of people over their lifetime.  When the capsule gets cloudy a simple laser procedure will resolve this and restore the vision to previous levels.
Will I have any glare or night vision problems with my IOL?
The vast majority of patients will not have glare or night vision problems with lens implants.  Cataracts induce these symptoms, so after surgery most patients feel like their night vision function is greatly improved.  Depending on the type of lens implant used, glasses may be required for best visual function in low light situations. 
Will I need glasses with my IOLs?
The need for glasses after cataract surgery will depend on the lens implant selection.  Medical insurance will pay for a standard lens, which in most cases will require glasses for distance, near, or both.  The Light adjustable and multifocal lens implants will greatly reduce or fully eliminate the need for glasses after surgery.  There is some cost to the patient above what insurance pays for the premium lenses.