Contact Lenses in Kansas City, MO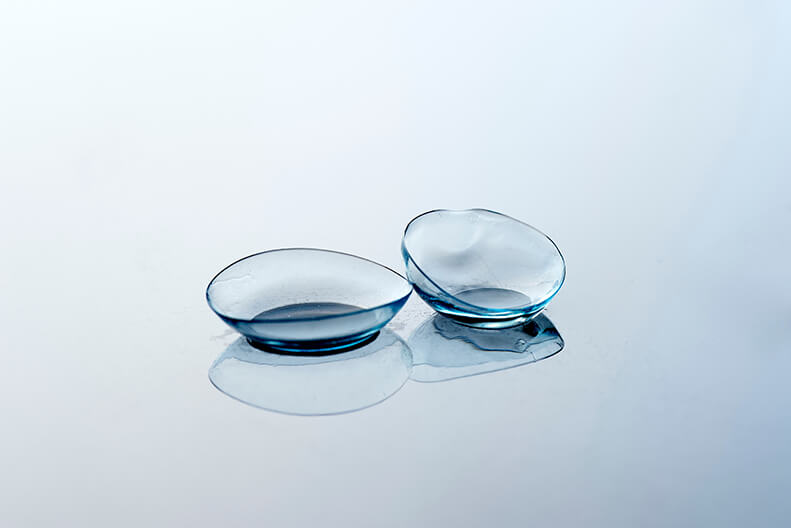 When you buy contact lenses, you have several options. You can order contact lenses online in addition to purchasing prescription contact lenses. Other types of contact lenses include colored lenses, bifocal/multifocal, soft contact lenses, and more. At Discover Vision Centers, we make it easy to find what you're looking for so you can enjoy your vision.
Contact Lenses Exams & Fittings at Discover Vision
Our vision center makes it easy to correct your vision! In addition to being a contact lenses supplier where you can order contact lenses, our professionals also offer fittings and comprehensive exams. Regardless of whether you're seeking a part-time or full-time solution, our approach is always thorough. Once we have a better understanding of your weak points and the shape of your eyes, we can make recommendations accordingly.
Types of Contact Lenses Available in Kansas City, MO
There are many factors in choosing the right contact lenses for you, and it's essential that you choose the right type of lenses to assist you in the most effective way possible. In addition to whether you are nearsighted or farsighted, the size and shape of your eye, lifestyle needs, daily usage, and other considerations are used by our doctors to choose the lens option that is best for you. Wondering which type of contact lens is right for you? Rest assured that our clinic has a wide selection of different types of contact lenses, and our team can help you sort through your options to find the right fit that checks all of your boxes.
Silicone Hydro Lenses
Made from a unique material that attracts and binds water to the lens, your lenses stay moist and comfortable without surface treatments or wetting agents that can wash off as you clean your lenses. This technology creates a softer, more flexible lens material, contributing to an extremely comfortable lens wearing experience. Silicone hydrogel lenses are the fastest growing lens modality market in the U.S. and are a great option for patients who suffer from ocular allergies. These lenses are also available for astigmatism and multifocals.
Toric Contact Lenses
For patients who need correction for low or high levels of astigmatism, Toric contact lenses can provide comfort and great vision quality. To individuals with uncorrected astigmatism, images may look blurry or shadowed. Astigmatism is very common and can be corrected with contact lenses, glasses, laser vision correction, and special implant lenses.
Multifocal Contact Lenses
Presbyopia is a condition that typically becomes noticeable for most people around age 45. In children and young adults, the lens inside the eye can easily focus on distant and near objects. With age, the lens loses its ability to focus adequately. Patients with presbyopia can now experience clear vision near, far and everywhere in between with multifocal contact lenses that stay moist and comfortable all day long. Some multifocal lenses even have an extended wear option for those who require overnight wear. Besides contact lenses, presbyopia can be dealt with in a number of ways including glasses, monovision laser vision correction, and special implant lenses.
Daily Contact Lenses
Do you replace your contact lenses every day? Or do you do it at some point each month? Daily disposable options last for 1 day. Your replacement schedule is the length of time your contacts can be worn before they need to be replaced with new lenses (taking them out at night is a given unless you have "extended wear" contacts). Remember, to help keep your eyes healthy and your lenses problem-free, follow your contact lens replacement schedule unless your doctor gives you more specific instructions.
Extended Wear Contact Lenses
There are now 2-Week or Monthly extended wear options for those who prefer not to replace their contact lenses every day. Extended wear contacts fit the way you live and make it easier for you to follow the replacement schedule recommended by your eye doctor.
Scleral Contact Lenses
Scleral contact lenses for dry eyes are a type of specialty contacts. They're ideal for patients with irregular astigmatism, irregular corneas, and chronic dry eyes. The diameter of a scleral contact lens is larger than a traditional lens, so it vaults over the cornea and rests on the sclera or the white part of the eye. In addition, these lenses have a tear-filled reservoir that surrounds the cornea, a sensation that is often therapeutic and provides relief.
RGP Lenses
Rigid gas permeable contacts (RGP) are hard contact lenses that are ideal for patients who have mild astigmatism. Their durability is higher compared to traditional contact lenses.
Soft Contact Lenses
Soft contact lenses are an ideal choice for patients that don't have complicated prescriptions. This contact lens type comes in many disposable formats such as monthly, bi-weekly, or daily.
Color Contact Lenses
For those who are a bit more daring or want to play around with the color of their eyes, colored contact lenses are a great option. They come in both prescription and non-prescription options.
Contact Us to Get Contacts in Kansas City Today
To learn more about contact lenses or to order contact lenses online, call Discover Vision Centers at 816.408.3775 or click here to schedule a contact lenses appointment with a Discover Vision optometrist today.
Contact Lenses Exam & Fitting Process
It's essential to find the right eye contact lenses prescription to help improve your vision. This process always starts with a contact lens evaluation. It's important to note that contact lenses need a separate measurement from regular glasses.
Here's what a contact lens fitting includes at Discover Vision Centers:
We take specific measurements of the eye
We help you select the best contact lenses for your lifestyle and overall visual needs
We evaluate the contact lenses on your eyes
We schedule additional follow-up visits to check your prescription and fit
If you're a first-time contact wearer, one of our technicians will walk you through the insertion and removal process. Your follow-up visit will include your doctor evaluating the health of your cornea and anterior ocular structures and making any necessary adjustments.
How to Order Contact Lenses During COVID-19
As the American Optometric Association notes, it's safe to wear contacts during COVID-19, meaning it's still possible to buy contact lenses online. You'll be able to do so through our practice. Once you have your lenses, clean and disinfect them as recommended by a name-brand solution manufacturer for best results. If you wear daily lenses, dispose of them at the end of each day.
Contact Lenses Brands & Manufacturers We Carry
We know that every eye is different and each patient has unique visual requirements. This is why we carry a range of brand lines from which you can choose, offering the top contact lens types and manufacturers.
Why Choose Discover Vision for Ordering Contacts?
We are a top-tier optical shop that offers custom contact lenses to help improve the vision and quality of life of our patients. Our professionals are proud to offer attentive care and cost-saving options to help our patients get the care they need at the most affordable price. Our staff is dedicated to helping you in the most personalized way possible. Our mission is to ensure each patient at Discover Vision gets the most beneficial solution possible.
Schedule an Appointment for Contact Lens Evaluation or Fitting
Whether you're buying contact lenses online or you're interested in learning about our selection, we're here to help! Discover Vision can customize a contact lens solution that fits your lifestyle. Call 816.330.2784 to schedule an appointment in Missouri or Kansas or click here to schedule online. If you'd like to order your contact lenses, click here.
Contact us
FAQs
Do I need an exam to order contact lenses?
A routine eye examination is required yearly for patients wearing contact lenses. This examination is performed to evaluate the health of your eyes. If your optometrist feels it is necessary, you may be dilated during this examination. In addition to a routine eye examination, you will also be required to have either a contact lens fitting or contact lens progress evaluation every 12 months.
Insurance may pay all, a portion or none of your routine eye exam. However, a routine eye exam does not include contact lens services. Contact lens services are subject to additional charges.
How much are contact lenses?
The contact lenses cost that you can expect to pay ranges widely based on your prescription and the types of contacts that you need.
Does a fitting for contact lenses include the cost of my contact lenses?
Fees for professional services do not include the cost of the contact lenses. Lens costs vary depending on the type that best fits your visual needs. Your optometrist will discuss the cost of the lenses with you at the time of the fitting. If you have questions, please do not hesitate to ask.
Do you accept insurance?
Many insurance plans only cover medical eye exams while some insurance plans cover routine eye exams and contact lens services. Also, your insurance may require authorization prior to the examination in order to pay the benefit. For this reason, it is very important to provide our patient coordinators with your insurance information when making your appointment.
If you have questions regarding your insurance benefits, we will be happy to assist you. You may also contact your insurance provider or human resource department.
What is your refund policy for contact lenses?
To learn more about contact lenses, call Discover Vision Centers at 816.542.7157 or click here to schedule an appointment with a Discover Vision optometrist today.
Are contact lenses safe to wear during COVID-19?
Discover Vision Centers is following the American Optometric Association (AOA) and American Academy of Ophthalmology (AAO) guidelines that currently state contact lenses are safe to wear as long as proper hand washing is followed. Thorough hand washing for at least 20 seconds when inserting and removing contact lenses is the most important step you can take during this time if you continue wearing your contact lenses.
Contact Lenses in Kansas City, MO Doctors