Annual Eye Exams in Kansas City, Missouri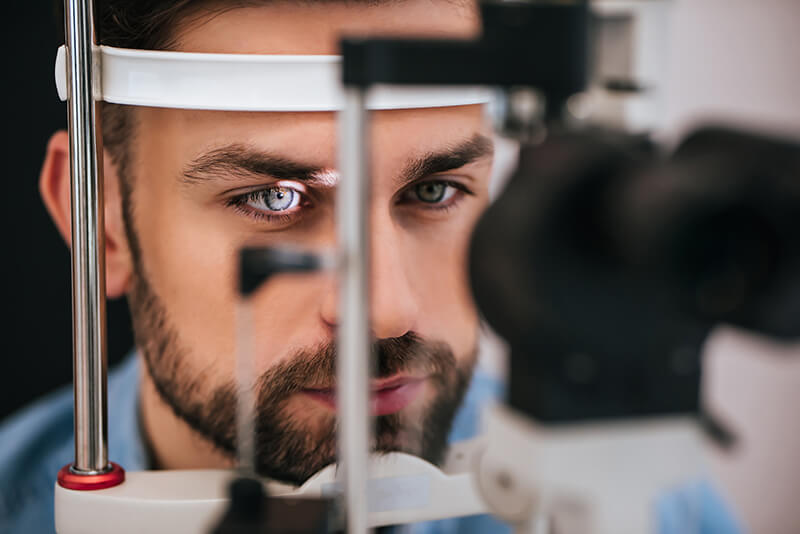 Routine eye exams not only ensure that your eyes remain healthy and your vision remains sharp, but can often identify underlying health issues such as heart disease, high blood pressure and diabetes. Discover Vision offers comprehensive routine eye examinations that help you to be proactive when it comes to your eye health, and your overall health and wellness.
What Is a Routine Eye Exam?
Routine eye exams are recommended to stay up to date on your eye health and functionality. During these eye health exams, an eye care professional will check for signs of eye disease, determine your need for glasses or contacts, and use these tests as indicators to assess your overall health.
A routine eye exam consists of multiple tests that gauge the efficiency of your eyesight and your overall eye wellness. Doctors use a variety of lenses and lights to test your vision along with the use of more simple tests such as a vision chart.
The Importance of Vision Check Ups
Vision check ups are an important part of maintaining a healthy life. Depending on factors such as age and risk, the frequency of eye sight exams vary from once per year to every 2 or 3 years. Doctors recommend more frequent examinations for individuals of a certain age and individuals that suffer from certain health or vision issues such as:
Younger children, to determine if prescription lenses are needed
Those experiencing high blood pressure
Those diagnosed with diabetes who may require medical eye exams as often as every 6 months
Those experiencing vision decline due to age or other factors
Current wearers of prescription eyeglasses or contact lenses
Those who have a history of eye disease such as cataracts or glaucoma and may require medical eye exams multiple times throughout the year
Previous eye injury
African Americans over the age of 40
More frequent examinations for high-risk patients can prevent eye disease or help slow the progression of existing eye conditions such as diabetic retinopathy or macular degeneration through early detection and treatment.
Not a high-risk patient? It is still recommended that you schedule a dilated eye exam every 2 years, if not annually. Eye conditions can develop at any time and it is best to stay on top of it through routine care.
How Often Should You Get Your Eyes Checked?
As you get older, your risk of eye disease increases so it is recommended that adults over the age of 60 schedule eye exams annually. Annual examinations are also recommended for those who suffer from existing conditions, or those who wear prescription lenses. If you are at higher risk due to previous injury to the eye or have a family history of eye disease you should speak to your doctor about how frequently you should be examined.
Healthy adults from ages 18-40 are at lower risk for eye disease, but still should receive examinations every 2-3 years. Once you are over 40 it is recommended to schedule exams more frequently to check for typical age-related vision issues such as presbyopia, macular degeneration, and glaucoma.
19-40 years: every 2-3 years, or as recommended by a healthcare professional
41-60 years: every 2 years, or as recommended by a healthcare professional
61+ years: Annually, or as recommended by a healthcare professional
Children should have their eyes examined more frequently to ensure that there are no existing or developing eye issues or need for prescription lenses. According to the American Optometric Association, children must have their eyes examined:
By 6 months of age
At 3 years of age
Before 1st grade and annually throughout school
Get a Comprehensive Routine Eye Exam Test in Kansas City
If you're interested in a comprehensive eye examination in Kansas City and the surrounding areas, contact Discover Vision Centers. Our optometrists would be happy to see you for your eye exam.
What Do Regular Eye Exams Diagnose?
Routine eye exams give you immediate feedback on your current eye health. An optometrist will take you through a standard screening procedure to address any vision concerns. Eye exams check for:
If any underlying issues are present, your optometrist will discuss a plan for treatment that works for you. If you have an astigmatism or other refractive errors, you will receive an eyeglass prescription which can be used at Discover Vision's Optical, or any optical of your choosing. If you are interested in contact lenses in addition to or in place of eyeglasses, you can request a contact lens fitting for an additional fee.
What Happens During a Routine Eye Exam Procedure?
There are multiple types of eye exams. A routine eye exam is a check-up where your doctor will discuss your current eye health with you. They will ask if you are experiencing any issues with your vision, and whether or not you have a family history of eye disease. The eye doctor will perform the following tests and procedures during your vision check up to identify any existing issues.
Visual Acuity Test
A Visual Acuity Test measures how accurate your vision is in each eye and whether one or both eyes may need correction. During this test you are asked to cover one eye at a time and read outloud the smallest line of letters you can see on an eye chart.
Your results from this test are depicted as a fraction, such as 20/20. The top number represents the distance you stand from the chart and the bottom number represents your vision in comparison to the distance someone with clear eyesight could read the same line. For example, if you have 20/40 vision, the line you were able to read from 20 feet away, someone with clear vision would be able to read from 40 feet away.
Refraction Test
If you struggle to see clearly during the Visual Acuity Test, your optometrist may proceed with a Refraction Test. This test diagnoses refractive errors such as nearsightedness, farsightedness and/or astigmatism, and determines whether prescription lenses are needed. Your eye doctor will use a phoropter to manually determine how a lens must be shaped and curved so that you can see clearly. This machine has an assortment of prescription lenses that have different levels of refraction. The eye doctor uses a knob to rotate through these lenses and may ask you, "Better one, or better two?" The goal with a refraction assessment is to help you see the eye chart through different lenses and determine if a lens improves or worsens the clarity of your vision.
Slit Lamp Exam
Another routine eye exam test that your optometrist may perform is the Slit Lamp Exam. A Slit Lamp is a specialized microscope that is used to look at the structures of your eye. Before the exam, your eye doctor may use eye drops to dilate your eyes to allow for easier examination.
During the Slit Lamp exam, the doctor will ask you to rest your head and chin in a specific position against the structure. The lamp produces a bright line of light that allows the eye doctor to move the light around your face from side to side to observe your eyes in small sections and look for imperfections or irregularities.
Dilation helps the doctor see inside your eye during a Slit Lamp Examination to detect any problems such as macular degeneration, diabetic retinopathy, cataracts, issues with the retina, and more.
Pupil Dilation
Pupil Dilation is a common element of a routine eye exam. The pupil is the round opening in the center of your eye that allows light to enter. Specialized eye drops are used to widen the pupil which allows for more light to enter your eye and gives your doctor a better view of the inside of your eye. The effects of these eye drops will generally only last for a few hours. Make sure to wear sunglasses and use caution when driving as your eyes can be sensitive to light and your vision may be blurry.
Visual Field Test
If it is determined that you are having issues seeing peripherally, a Visual Field Test may be recommended as part of a medical visit. A Visual Field Test allows your eye doctor to examine the entire horizontal and vertical range of your peripheral vision. The goal is to measure how far you can see in any direction without moving, at the far left, right, top and bottom of your vision. This test determines whether you are at risk for blind spots (scotomas) in your vision which are indicators of eye disease, such as glaucoma.
While there are several types of visual field tests, you can expect to experience one common thing: you will be instructed to look straight ahead at one point in the center of your vision and signal when you see something off to the side. A "normal" visual field test means that you see just as well as most people around the edges of your visual field. If it is determined that you have a small or significant amount of vision loss, your doctor may recommend repeating a Visual Field Test at different intervals to get a more accurate measurement over time.
Contact Discover Vision for an Eye Vision Exam Today!
If you have questions or concerns regarding eye conditions, vision problems, lens prescriptions or overall eye health contact Discover Vision in Kansas City at 816-478-1230 or schedule an appointment online. We have offices in Blue Springs, Harrisonville, Independence, Lee's Summit, Kansas City North, Raymore, Leawood, Olathe and The Legends.
Why Choose Discover Vision for Annual Eye Check Up?
Discover Vision Centers has been proudly serving the Kansas City area for 50 years and has established itself with some of the best specialists in all aspects of eye care treatment and vision correction. Our medical eye doctors are board-certified, highly-trained specialists who apply their expertise in all areas of eye care. Our focus at Discover Vision is on the health of your eyes and the quality of your life. Whether you need an annual vision exam, comprehensive eye exams for Kansas City patients, or any other issues you are experiencing, we are here to offer professional and extensive eye care to you and your family.
Eye Exam Cost & Financial Options
Discover Vision accepts and participates in most locally-available routine vision and medical insurance plans. Routine Vision Exams are available through routine vision insurance, such as VSP, but every plan is different. For this reason, you should check with your HR department regarding your specific benefits, or provide your information to our team ahead of your visit so that we can verify coverage for you. If you do not have insurance, you can also self pay for a routine eye exam. For the most up-to-date information on accepted insurance or to have your coverage verified, please call 816-478-1230 to speak with our Centralized Scheduling team.
Areas We Serve
Discover Vision Centers has 9 clinic locations with full-service optical shops, 3 LASIK / SMILE laser vision correction centers, and 3 eye surgery centers in the Missouri and Kansas area.
Schedule A Routine Eye Exam in Kansas City at Discover Vision
Scheduling a Routine Eye Exam, especially if it is your first time, may seem daunting. Our team at Discover Vision Centers are here to help provide preventative care and expert insight. Routine eye exams are an important part of keeping on top of your vision and overall health. Schedule an appointment online at discovervision.com or call our Centralized Scheduling team at 816-478-1230.
Client reviews
Contact us
FAQs
Do I need an eye exam if my eyes seem fine?
Everyone should have a routine eye exam. Even if your vision seems fine, there is always a possibility of underlying issues that are not easily identifiable. Even if no issues are present, a routine exam allows you to stay on top of your eye health and prevent possible issues before they occur.
What to bring to an eye exam?
First and most important, if you are using insurance for your eye exam, make sure to have your insurance information with you. If you have a current prescription, bring your eyeglasses and / or contact lens prescription with you. In the event that you might be getting your pupils dilated, it is always a good idea to bring a pair of sunglasses. Discover Vision carries disposable sunglasses if you do not bring your own. Be prepared to talk about any current medications you are taking and any family or personal history of eye disease or injury.
How long do eye exams take?
Most Routine Eye exams last from 30 minutes to an hour. Some exams may last longer if there is an issue identified or if a prescription is needed. If you also need a contact lens prescription, be prepared to also receive a contact lens fitting, which is subject to an additional fee.
Do eye exams hurt?
Eye exams are painless and non-invasive procedures that are important for maintaining your overall health and well-being. Dilation may make your eyes sensitive to light, however, this sensitivity generally only lasts for a few hours before wearing off.
What's the difference between a vision screening and a complete eye exam?
A vision screening is a less in-depth screening of your vision, similar to the test you receive at the DMV where you may look into a machine and read the line you can see clearly. A vision screening tells you what your vision is, but generally does not detect anything that may be happening inside of your eye.  An eye exam is done by an Optometrist or Opthamologist with specialized training and uses specialized equipment to detect refractive errors or treat vision concerns.
Annual Eye Exams in Kansas City, Missouri Doctors