Implantable Collamer Lens
What is an ICL?
ICL stands for Implantable Collamer Lens. ICL surgery is a vision correction procedure that treats a wide range of refractive errors, from moderate to severe near-sightedness (myopia) and astigmatism.
As the name indicates, ICL is designed to be implanted between the iris and the eye's natural lens. Once the lens is in place, the ICL works to provide superior vision. Because it is placed inside of the eye, it does not require daily cleaning or replacement like regular contact lenses.
If you are looking for a more permanent solution to vision correction without the maintenance and upkeep of regular contact lenses, ICL may be an option for you. Its biocompatibility and collamer makeup help to maintain the eye's natural chemistry while also providing UV protection.
Will ICL Work if I have Astigmatism?
The short answer is yes – the Visian ICL is an option if you have astigmatism. Dr. John Doane was the first eye surgeon in Kansas City to perform the Visian Toric ICL procedure after FDA approval.
The surgery places a permanent contact lens in the eye of patient's with astigmatism who don't qualify for LASIK surgery. In some cases, this is a great option for patients who have thin corneas.
Previously, patients needed two procedures: the ICL to correct nearsightedness and a second procedure such as LASIK to correct astigmatism.  With the Toric ICL, patients have a new option to correct their vision with a single procedure.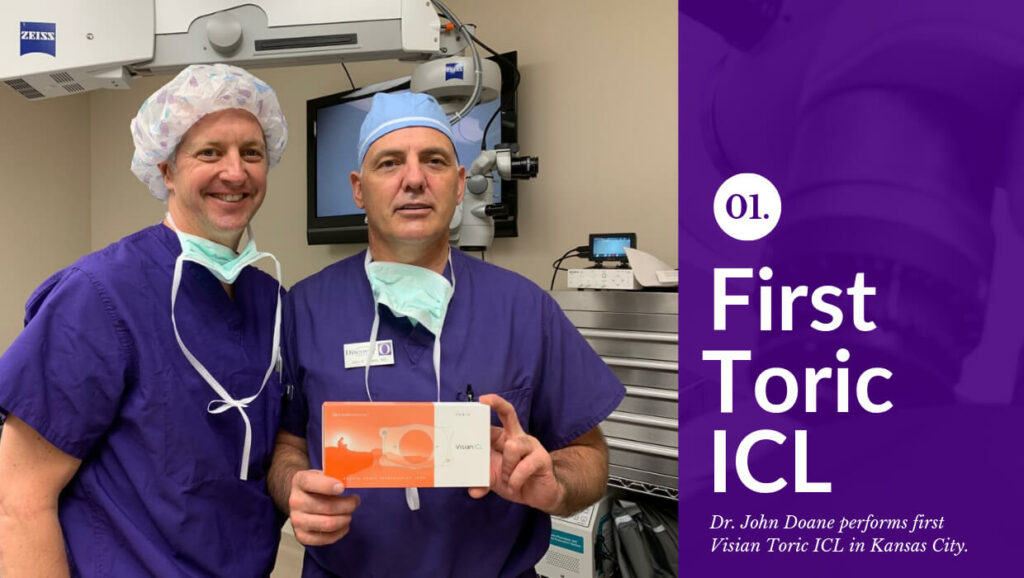 Benefits of the Visian ICL
Treats moderate to high nearsightedness or myopia
Treats astigmatism
Lower incidence of dry eye syndrome [1]
Provides sharp, clear vision [2],[3],[4]
Excellent night vision [5]
Great option for those with thin corneas [6],[7]
Removable – The advantage of the Visian ICL is that it can permanently correct your vision without removing natural tissue from the cornea. Though it is unlikely, if you need or wish to remove your ICLs in the future, this can be done by the surgeon.
Collamer make-up means that the ICL functions in harmony with your natural eye.
UV protection built in – an added benefit, this layer is built into the biocompatible lens
A typically quick, 20-30 minute or less procedure. Most people are able to resume daily activities in just a few days.
Vision correction with a legacy of success. VisianICL has been approved in Europe since 1997 and in the U.S. since 2005. In that time, over 775,000 eyes have been implanted with Visian ICLs by certified, specialized surgeons with a study showing a 99% patient satisfaction rate [8].
As with any surgical procedure, the Visian ICL may not be the right choice for everyone. To learn more about the ICL, schedule an evaluation with our team. An evaluation will help to determine whether this type of vision correction procedure is right for you.
---
Footnotes: [1] By not removing and reshaping corneal tissue, the Visian ICL procedure does not induce dry eye syndrome. Naves, J.S. Carracedo, G. Cacho-Babillo, I. Diadenosine Nucleotid Measurements as Dry-Eye Score in Patients After LASIK and ICL Surgery. Presented at American Society of Cataract and Refractive Surgery (ASCRS) 2012. [2] Sanders D. Vukich JA. Comparison of implantable collamer lens (ICL) and laser-assisted in situ keratomileusis (LASIK) for Low Myopia. Cornea. 2006 Dec; 25(10): 1139-46. [3] Shin, JY. Ahn, H. Seo, KY. Kim, EK. Kim, TK. Comparison of higher order aberrations after implantable collamer lens implantation and wavefront-guided lasek in high myopia. J Refract Surg. 2012; 28(2): 106-111. [4] Igarashi, A. Kamiya, K. Shimizu, K. Komatsu, M. Visual Performance after implantable collamer lens implantation and wavefront-guided laser in situ keratomileusis for high myopia. Am J Opthalmol. 2009. [5] Parkhurst, G. A prospective comparison of phakic collamer lenses and wavefront-optimized laser-assisted in situ keratomileusis for correction of myopia. Clinical Ophthalmology 2016, 10:1209-1215. [6] Parkhurst, G. Psolka, M. Kezirian, G. Phakic intraocular lens implantantion in United States military warfighters: A retrospective analysis of early clinical outcomes of the Visian ICL. J Refract Surg. 2011;27(7):473-481. [7] Gimbel, Howard V et al. Management of myopic astigmatism with phakic intraocular lens implantation. Journal of Cataract & Refractive Surgery, Volume 28, Issue 5, 883-886. [8] Visian ICL Patient Information Booklet