Discover Vision is Hiring
---
---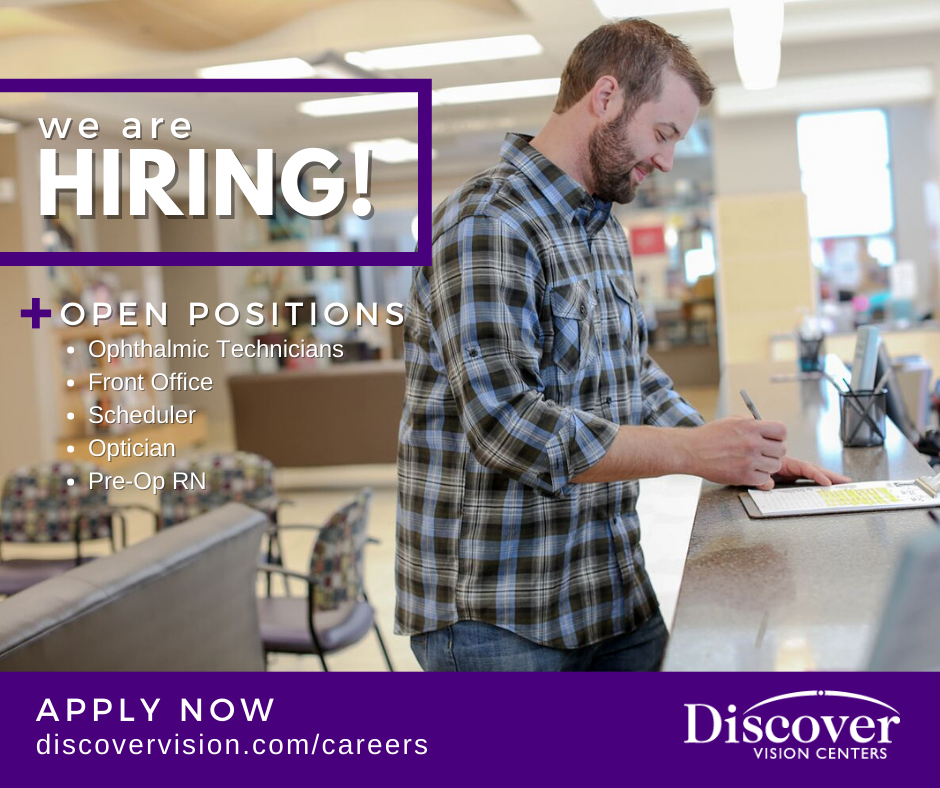 Focused on finding a new job? Do you know someone awesome?
Great! Discover Vision is hiring and we're always searching for friendly, talented team members.  Our HQ office is located in Independence, Missouri but we have 9 eye clinic locations and 3 surgery centers across Missouri and Kansas. 
Discover Vision Centers (DVC) is a locally-owned business. Our company began in 1973 with 2 doctors and 5 staff members. Over the past 5 decades, we've grown to more than 30 doctors, and 300 team members. Work among some of the world's top doctors who are on the leading edge of research and development for cataracts, glaucoma, macular degeneration, retina, laser vision correction, and more.  
Patient care is at the center of everything we do. Our mission is to compassionately provide the highest level of routine, medical and surgical eye care, enhancing the quality of life for every individual we treat.
Open Positions
Ophthalmic Technicians
Retina Technicians
Front Office Patient Coordinators
Scheduler
Optician
 Pre-Op RN
What makes DVC different
We've been putting people first since day one. At DVC, we offer variety, balance, and support so you can love your work and build a career that is exciting and sustainable.
Experience is not required to become a technician. Though experience is preferred, or required for some clinical positions, our on-site training program is unsurpassed within the region.
DVC offers competitive salaries and excellent benefits. This includes an employee (and immediate family) benefit for routine vision, and a significant discount on optical and other vision correction procedures. Standard benefits include access to group health & dental insurance, 401K match and CME (continuing medical education) allowance.
Inclusion and Diversity
We are committed to creating a safe, diverse and inclusive workspace. We seek out diverse talent and thrive in an environment where we are continually learning from one another.
Culture
Our people set us apart. We're a company who believes in high fives, elbow bumps, asking for help, and patting each other on the back. We believe in work hard, play hard so you can pursue a fulfilling career and still enjoy your life outside of work. Some of our team members have been with us since the very beginning. More than 44% of our team has worked at Discover Vision Centers for more than 10 years.  
Apply Today
To apply online or submit an application, visit our Careers Page or email resume/cover letter to [email protected].
Discover Vision is Hiring
Optical
Order Contacts
MyDVC Patient Portal
Discover Vision Blog