Vision and Viewing Guide to the 2018 Winter Olympics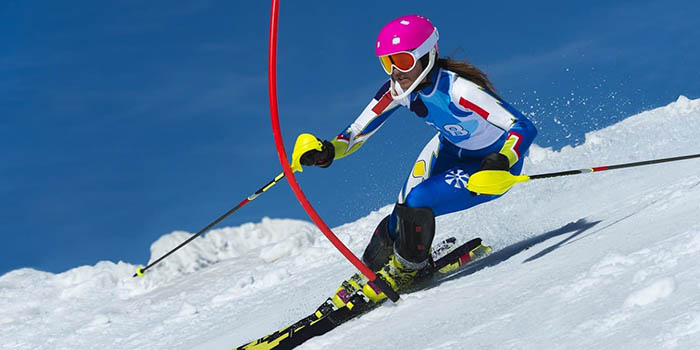 The 2018 Winter Olympics have arrived! Athletes from around the world are gathering in Pyeongchang to compete for gold and glory in one, or more, of 15 events.  The commitment and passion shown by these amazing athletes is matched only by the time, effort and focus they have put into training to be at the peak of their physical abilities.  In spite of the variety of skills being tested at these Games, each athlete relies heavily on their vision to perform with excellence.  Fans of the Winter Games will appreciate the following Vision and Viewing Guide to the competition, providing information on when and where events are being held, as well as some insights into how excellent vision supports the athletes as they compete for their country.
ALPINE SKIING
Events held: Feb. 11- 15, Feb. 17-18 and Feb. 21–24 at the Yongpyong and Jeongseon Alpine Centres
Fun fact: Archaeologists have traced skiing back to prehistoric times with artifacts found in Russia, Finland, Sweden and Norway.
How vision plays: Ski goggles are used to protect the eyes against the air pressure generated by the great rates of speed skiers race at in their quest for the gold.
BIATHLON
Events held: Feb. 10 – 12, Feb. 14-15, Feb. 17-18, Feb. 20 and Feb.22-23 at the Alpensia Biathlon Centre
Did you know? Combining a cross country ski race with target shooting, the biathlon has its roots in survival skills required for hunters living in the snow-covered Scandinavia countries.
How vision plays: Biathlon rifles have two sights, but neither of the sights are magnified. Biathletes must be able to visualize 4.5-inch and 1.77-inch diameter targets from more than 50 yards away with pinpoint accuracy without magnification.
BOBSLEIGH
Events held: Feb. 18 – 21 and Feb.24-25 at the Alpensia Sliding Centre
Did you know? Recent changes to the bobsleigh rules make the four-man competition an open event, making a mixed gender team possible.
Fun fact: At the 1928 Winter Olympics in St. Moritz, the four-man competition was actually performed by 5-man teams. The U.S. team won the gold that year.
How vision plays: Helmets are required equipment to protect athletes during crashes. Goggles also help to protect the eyes and lens technology assists in visualizing changes in the surface of the track. Both helmets and goggles are specifically designed to provide the widest possible field of vision, so as not to impact the athlete's reaction time.
CROSS COUNTRY SKIING
Events held: Feb. 10-11, Feb. 15-18, Feb. 21, Feb. 24-25 at the Alpensia Cross-Country Center
Did you know? With both men's and women's events, there are more than 12 cross country skiing competitions slated for the Winter Games.
Fun fact: Star of 2016 Rio Olympic Games opening ceremonies, Tonga's Pita Taufatofua, known for his shirtless, well-oiled entrance, is attempting to become the first Tongan to compete in both the Summer and Winter Olympics. After competing in taekwondo in Rio, Taufatofua has qualified to compete in cross country skiing in Pyeongchang.
How vision plays: Sunlight reflecting off the snow and ice has a significant impact on cross country skier's ability to visualize the course terrain, which is important for both safety as well as identifying opportunities to gain speed. Athletes can choose between sunglasses or goggles to help eliminate harsh lighting and enhance the coloration of the track so they can forget about their vision and focus on their competitive performance.
CURLING
Events held: Feb.8 -Feb 22 at the Gangneung Curling Centre
Did you know? Curling is the longest running event at the Winter Olympics with 15 days of competition
Fun fact: The surface of the ice for curling isn't smooth. It is sprinkled with water to create "pebbled ice" to help the stone grip for a more consistent glide
How vision plays: Other than a player's need for vision correction, no special eye wear or protection is required. Having an acute sense of depth perception is important to judge distances accurately.
FIGURE SKATING
Events held: Feb. 9, Feb. 11-12, Feb. 14-17, Feb. 19-21, Feb. 23 at the Gangneung Ice Arena
Did you know? Figure skating is the oldest Winter Olympic sporting event. The first figure skating Olympic event was held during the 1908 Summer Olympics in London, before the era of Winter Olympics.
Fun fact: There are six types of jumps in figure skating separated into two categories: toe jumps and edge jumps.
How vision plays: For figure skaters, vision plays a critical role in their ability to perform at Olympic-level caliber. To jump, spin and move over the ice with poise and grace, visual capabilities including depth perception, spatial awareness, reaction time and coordination must function well in order for athletes to concentrate on their routine.
FREESTYLE SKIING
Events held: Feb. 9, Feb. 11, Feb. 12, Feb. 15-23 at the Phoenix Park
Did you know? The freestyle skiing competition includes aerials, halfpipe, moguls, slopestyle and ski cross events.
Fun fact: Freestyle skiing of all types used to be known as "hotdogging."
How vision plays: The success of freestyle skiing is predicated on speed and agility and combines the visual demands of alpine skiing and figure skating. Helmets are a must and goggles are essential to improve visibility and protect the eyes from snow, wind and sun. Excellent depth perception is key to sticking the landing from jumps. Good peripheral vision is needed for the ski cross events where racers are on the course at the same time.
ICE HOCKEY
Events held: Feb. 10 – 23 at the Kwandong Hockey Center
Did you know? The women's ice hockey team from the host country, South Korea, will include players from North Korea following a ruling from the International Olympic Committee allowing the two countries to form a unified team.
Fun fact: For the first time since 1994, U.S. National Hockey League players will not participate in ice hockey events this Winter Olympics. Without these professional players from across the globe, the competition may be more unpredictable as countries rely on amateur talent to fill out team rosters.
How vision plays: The puck can travel at upwards of 90 miles per hour across the ice, requiring lightning-fast reflexes and superior eye-hand and body-foot coordination, both of which are driven by vision. Unquestionably, ice hockey is a contact sport, so the rink is no place for glasses. The speed at which the athletes skate generate a great deal of air speed, which can dry out contact lenses. The conditions and demands of ice hockey make laser vision correction a great choice for excellent vision without the drawbacks of glasses and contacts.
SKELETON AND LUGE
Luge events held: Feb. 7 – 15; Skeleton events held: Feb. 15-17 at the Alpensia Sliding Centre
Did you know? The first non-European to win an Olympic medal in luge occurred at the Sochi Winter Olympics when U.S. women's luge athlete, Erin Hamlin earned a bronze medal for her third-place finish.
Fun fact: The name "skeleton" is thought to come from either the look of early ice sleds or the Norwegian world for ice sled – "kjaelke" – which was incorrectly pronounced as "skele."
How vision plays: Between lying in prone positions and experiencing body-crushing g-forces, vision is compromised throughout luge and skeleton runs. Athletes wear face shields, rather than goggles, to protect their eyes while they steer their sled with their legs and minute weight shifts of their body.
SHORT TRACK AND SPEED SKATING
Short Track events held: Feb. 10, Feb. 13, Feb. 17, Feb.20 and Feb. 22 at the Gangneung Ice Arena;
Speed Skating events held: Feb. 10-15, Feb. 16, Feb. 18-19, Feb. 21 and Feb. 23-24 at the Gangneung Oval
Did you know? Speed skating events consists of two skaters competing at a time. In short track speed skating, all the competitors in a given race compete at once, known as a mass start.
Fun fact: Skating blades were first made of bone before evolving to wood and then, in the 16th century, iron. Steel blades were invented in Philadelphia in 1850.
How vision plays: The sheer force of the wind generated by the speeds the racers achieve often causes the athlete's eyes to tear, which is why most competitors use some kind of eye wear, either goggles or sport glasses.
SKI JUMPING
Events held: Feb. 8, Feb. 10 -12, Feb. 14-19   Alpensia Ski Jumping Centre
Did you know? Ski jump hills are now engineered to map to jumpers' flight path, enabling the athletes to soar great distances without having to be more than 9-12 feet off the ground.
Fun fact: A typical Olympic ski jumper will be airborne for between 5 and 7 second.
How vision plays: As sticking the landing is key to a good score, athletes need to have clear vision and great depth perception to visualize the landing zone, judge the distance and make any adjustments required.
SNOWBOARD
Events held: Feb. 10-16, Feb. 19, Feb. 21-24 at the Phoenix Park
Did you know? Snowboarding made its Olympic debut at the Nagano Games in 1998 with two events, giant slalom and halfpipe competitions.
Fun fact: Today, the Olympic snowboarding competition includes six events for both men and women and includes a mixed competition of team ski-snowboard cross.
How vision plays: Similar to skiers, snowboarders protect their eyes from wind, cold, snow and ice with goggles. While snowboarders may not achieve the same speeds as their skiing counterparts, excellent depth perception, peripheral vision and visual acuity are required for Olympic-class snowboarding.