Contact Lenses
---
---
Contact Lenses at Discover Vision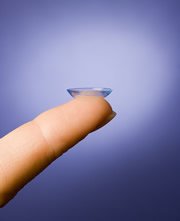 Contact lenses have become more convenient than ever. In fact, there's likely a contact lens that is right for you no matter your age or visual condition. Thanks to advancements in technology, there are several options that allow all day comfort and outstanding quality of vision. To find out which contact lens suits your lifestyle, schedule an appointment with a Discover Vision optometrist.
If you are a current Discover Vision contact lens patient, and you would like to order your contact lenses, please click here to order.
How to Order Contact Lenses During COVID-19
As you may be aware, COVID-19 has caused all of us to take a step back and make changes to the appointments we are able to offer, and how we screen for those appointments. If you are a contact lens wearer and currently have less than a 3 month supply left, we highly recommend that you place an order now. We will ship them directly to you at no charge.
We will extend contact lens prescription expiration dates on a case by case basis. Please communicate with our contact lens specialists through our main number: 816-478-1230 or click here to order online.  Due to reduced schedules, it may take 1-3 business days to return your call.  Please Note: we cannot extend orders for contact lens prescriptions that were issued outside of our office.
For the latest information on COVID-19 and potential scheduling changes, visit our update page here.
Are Contact Lenses safe to wear during COVID-19?
Discover Vision Centers is following the American Optometric Association (AOA) and American Academy of Ophthalmology (AAO) guidelines that currently state contact lenses are safe to wear as long as proper hand washing is followed.  Thorough hand washing for at least 20 seconds when inserting and removing contact lenses is the most important step you can take during this time, if you continue wearing your contact lenses.
In addition, clean and disinfect your contact lenses as recommended by a name brand solution manufacturer for best results.  If you wear daily lenses, dispose of them at the end of each day.
Both the AOA and AAO stress that if you feel sick, have flu-like symptoms or red/irritated eyes, you should discontinue contact lens wear, dispose of that pair of lenses and wear your glasses.  If you need a copy of your glasses prescription, please reach out to our team.
In the future when normal operations resume, we can work to get you into daily disposables, if you are interested in a more convenient lens.   For more detailed information on wearing contact lenses during COVID-19, check out our recent blog post here.
Advancements in Technology of Contact Lenses
There are many factors in determining the best contact lenses for you. In addition to whether you are nearsighted or farsighted, the size and shape of your eye, lifestyle needs, daily usage and other considerations are used by our doctors to choose the lens option that is best for you.  Wondering which type of contact lens is right for you?
Silicone Hydrogel Lenses | Made from a unique material that attracts and binds water to the lens, your lenses stay moist and comfortable without surface treatments or wetting agents that can wash off as you clean your lenses. This technology creates a softer, more flexible lens material, contributing to an extremely comfortable lens wearing experience. Silicone hydrogel lenses are the fastest growing lens modality market in the U.S. and are a great option for patients who suffer from ocular allergies. These lenses are also available for astigmatism and multifocals.
Toric Contact Lenses | For patients who need correction for low or high levels of astigmatism, Toric contact lenses can provide comfort and great vision quality. To individuals with uncorrected astigmatism, images may look blurry or shadowed. Astigmatism is very common and can be corrected with contact lenses, glasses, laser vision correction, and special implant lenses.
Multifocal Contact Lenses | Presbyopia is a condition that typically becomes noticeable for most people around age 45. In children and young adults, the lens inside the eye can easily focus on distant and near objects. With age, the lens loses its ability to focus adequately. Patients with presbyopia can now experience clear vision near, far and everywhere in between with multifocal contact lenses that stay moist and comfortable all day long. Some multifocal lenses even have an extended wear option for those who require overnight wear. Besides contact lenses, presbyopia can be dealt with in a number of ways including glasses, monovision laser vision correction, and special implant lenses.
Daily or Extended Options for Replacement Schedules | Do you replace your contact lenses every day? Or do you do it at some point each month? Your replacement schedule is the length of time your contacts can be worn before they need to be replaced with new lenses (taking them out at night is a given unless you have "extended wear" contacts). Remember, to help keep your eyes healthy and your lenses problem-free, follow your contact lens replacement schedule unless your doctor gives you more specific instructions.
1 Day | 1 Day lenses are the perfect choice for regular use or for sports and special occasions. Wearing daily contact lenses means there is less opportunity for your lenses to attract discomfort-causing deposits, as you will only wear them once. You will enjoy a one-of-a-kind lens design and a comfortable lens wearing experience without the hassles of cleaning and storing your lenses.
Extended Wear | There are now 2-Week or Monthly extended wear options for those who prefer not to replace their contact lenses every day. Extended wear contacts fit the way you live and make it easier for you to follow the replacement schedule recommended by your eye doctor.
Discover Vision can customize a contact lens solution that suits your lifestyle. Call 816.478.1230 to schedule an appointment in Missouri or Kansas or click here to schedule online. If you'd like to order your contact lenses, click here.
---
Do I need an exam to order contact lenses?
A routine eye examination is required yearly for patients wearing contact lenses. This examination is performed to evaluate the health of your eyes. If your optometrist feels it is necessary, you may be dilated during this examination. In addition to a routine eye examination, you will also be required to have either a contact lens fitting or contact lens progress evaluation every 12 months.
Insurance may pay all, a portion or none of your routine eye exam. However, a routine eye exam does not include contact lens services. Contact lens services are subject to additional charges.
---
Why do I need a fitting for contact lenses?
Contact lenses require additional and separate measurements from regular eyeglasses. Without a thorough contact lens fitting, a contact lens prescription cannot be determined. At Discover Vision Centers, a contact lens fitting includes:
Performing specific measurements of the eye
Selecting the contact lenses that best fit your lifestyle and visual needs
Evaluation of the contact lenses on the eyes
One or more contact lens follow-up visits
A lesson for first time contact lens wearers is required. During your lesson, a trained contact lens technician will instruct you on proper lens insertion, removal and care of your contact lenses.
At your follow-up visit, the doctor will re-evaluate the fit, the health of the cornea and anterior ocular structures, and adjust the power of the lenses as needed to provide you with the best possible vision correction.
The fee charged for a contact lens fitting includes follow-up visits for 90 days if needed. If it is determined that a different type of lens is required, the doctor will explain any additional charges for refitting you in that lens.
---
If I already wear contact lenses, do I need a fitting?
If you are already a contact lens wearer, a yearly eye examination is still required. However, you may only need a contact lens progress evaluation rather than a contact lens fitting. A progress evaluation involves examining your current contact lens fit and adjusting the power as needed. This type of examination generally does not require further follow-up visits.
To qualify for a progress evaluation rather than a fitting, you must be a contact lens wearer comfortable with your current prescription. You must provide the optometrist with the parameters of your current lenses in order to qualify for a contact lens progress evaluation only.
If you wear disposable lenses, the parameters may be found on the lens box label. Please bring the labels with you at the time of your eye examination.
---
Does a fitting for contact lenses include the cost of my contact lenses?
Fees for professional services do not include the cost of the contact lenses. Lens costs vary depending on the type that best fits your visual needs. Your optometrist will discuss the cost of the lenses with you at the time of the fitting. If you have questions, please do not hesitate to ask.
---
When is payment due for contact lens services?
Payment for all professional fees is required at the time of service. Professional fees include a routine eye examination, contact lens fitting, contact lens progress evaluation and lesson fees, if applicable.
To order your contact lenses, a minimum payment of 50% of the cost of the lenses is required before placing an order. Payment in full is required at the time the lenses are dispensed. Some non-returnable lenses will require full payment before ordering.
---
Do you accept insurance?
Many insurance plans only cover medical eye exams while some insurance plans cover routine eye exams and contact lens services. Also, your insurance may require authorization prior to the examination in order to pay the benefit. For this reason, it is very important to provide our patient coordinators with your insurance information when making your appointment.
If you have questions regarding your insurance benefits, we will be happy to assist you. You may also contact your insurance provider or human resource department.
---
What is your refund policy for contact lenses?
Examinations, contact lens fittings, contact lens progress evaluations and lessons are non-refundable. Boxes of contact lenses purchased at Discover Vision Centers that are unopened and in good condition may be returned within three months for a refund. Some lenses, including custom lenses, are non-refundable.
Any lenses ordered but not dispensed within 30 days will be returned to the manufacturer.
---
To learn more about contact lenses, call Discover Vision Centers at 816.478.1230 or click here to schedule an appointment with a Discover Vision optometrist today.
Routine Eye Care
Optical
Order Contacts
MyDVC Patient Portal
Discover Vision Blog